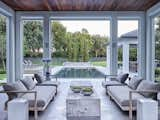 Grand Este Way By Allen Saunders Design
From Alexandra Robbins
Located in Boca Raton Florida, the design of the 7,000-square-foot contemporary residence was conceived to enhance social entertaining and enrich family gatherings.
Interior spaces of the home flow into a central exterior courtyard providing visual and physical connectivity. A neutral color palette paired with subtle artisan crafted stonework and linear millwork detailing, lends a relaxed feeling to the overall environment.
Purposefully designed ceiling troughs conceal the source of architectural lighting to provide a warm glare-less glow throughout interior. Zone specific decorative illuminative fixtures produced in bronze, smoked glass and polished mirror-like finishes become featured elements in each space.
Luxurious textiles, soft leathers, warm woods, and a combination of blackened and polished steel finishes were selected to enhance the shapes of the curated furniture quietly placed within the minimal interiors. The delicate selection of calm colors, understated furnishings and sophisticated detailing prove to be the ultimate serene backdrop enhancing the always evolving shades of nature.