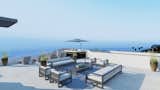 ETCO HOMES CELEBRATES MOMENTOUS COMMUNITY MILESTONES ACROSS SOUTHERN CALIFORNIA PORTFOLIO
From Design Envy
On the heels of its 30th year in business, etco Homes, an independent and privately-owned homebuilding company, is gearing up to introduce some of Los Angeles' most anticipated residential communities this year. With an emphasis on boutique, urban infill condominium development, etco Homes will unveil One Coast in Pacific Palisades opening in spring 2020, Āto in downtown's Little Tokyo district launching sales in Q4 2020 and The Melrose Collection consisting of two distinct properties – The Ainsley and The Addison – located in the heart of Los Angeles' Melrose Avenue district launching sales in 2020. With all of these communities combined, etco Homes will add more than 200 new homes to Los Angeles.
"These three communities are emblematic of etco Homes' core development principles: attention to detail, quality craftsmanship, locations in sought-after neighborhoods and leaving a legacy in each community where we build," said Afshin Etebar, President of etco Homes. "As we enter not only a new decade but also our 31st year in business, we continue to place the greatest emphasis on our valued homeowners and look forward to ushering in a new era for etco Homes with the introduction of One Coast, Āto and The Melrose Collection."
One Coast – California's premier coastal residential enclave, One Coast, offers 53 oceanfront townhomes and single-level flats elevated on the bluffs of Pacific Palisades. Overlooking ocean-to-mountain vistas and ranging from 2,810 to 5,017 square feet, the palatial, lock-and-leave residences present seamless indoor/outdoor living spaces, personalized concierge services, dedicated elevators and effortless access to coastal pursuits and L.A.'s most acclaimed cultural destinations. Most top floor residences have private rooftop decks that are hot tub and BBQ ready. All of the homes have verandas and two- to three-car garages. Pre-sales are currently underway. One Coast is anticipated to open in spring 2020.
The Melrose Collection – The Melrose Collection features The Ainsley and The Addison, all located in the heart of Los Angeles' vibrant Melrose Avenue district putting residents within minutes of an array of shopping, dining and entertainment destinations. The Ainsley boasts 49 single and dual-level one- to three-bedroom condos ranging up to 2,468 square feet. The community will feature luxury on-site amenities, including an outdoor dining area with BBQs, hot tub and cabana-style seating, an ample recreation center, fitness center, yoga room, private room for Pilates training and massage room for on-site services. The Addison offers 28 two- and three-level luxury townhomes comprising one to three bedrooms and ranging up to 2,762 square feet. Penthouse residences with expansive decks available. Both collections will offer a concierge attendee and furnished lobby. Pre-sales for The Addison and The Ainsley are anticipated to launch in early summer 2020 with completion slated for early fall 2020.
Āto – Āto boasts 77 contemporary single-level condos located in the up-and-coming Little Tokyo Historic District in downtown Los Angeles. The residences range from approximately 700 to 1,249 square feet and offer one- and two-bedroom floorplans. Residents will enjoy an attended lobby with doorman/concierge, an expansive open-air sky lounge complete with a lap pool and lounge areas with cabana-style seating, resident bar available for rooftop soirees and BBQ area, fitness center and more. Āto is located within a short distance to the vibrant and upscale downtown area offering residents a unique variety of historical, cultural, shopping and food destinations. Āto is slated for completion in June 2021 with sales launching in Q4 2020.
Since the company's founding in 1989, etco Homes has built and delivered nearly 1,500 homes spanning luxury condominiums and apartments as well as single-family homes.