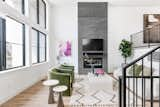 From K. Dabbs
Ella CityHomes is the first for-sale property on the buzzing 26-acre multi-million dollar neighborhood at 9th and Colorado (9+Co). This vibrant work-live-play community offers luxury urban living amongst 2021's most anticipated restaurants, boutique retail, state-of-the-art fitness facilities, innovative office space, and more.
Designed by award-winning OZ Architecture, the 35 luxurious design-driven townhomes incorporate setback outdoor terraces, abundant natural light, contemporary design, and modern amenities. Set in five intimate clusters, the homes have multi-floor, split-level layouts that offer privacy and a sense of peace in an exclusive gated community.
As distinctive from the inside as it is from the outside, Ella CityHomes continues to shape what elevated living in Denver looks like. The gated enclave boasts high-end finishes from Porcelanosa, Bosch, Thermador, and Zephyr, soaring ceilings, courtyards, outdoor rooftop terraces, and patios. Centrally located, Ella CityHomes are just moments away from Cherry Creek North, Downtown, and the Denver Zoo.