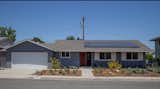 From Zan Dubin Scott
SOUTHLAND COUPLE TRANSFORM HOME, NOW ON THE MARKET, INTO GREEN ENERGY MODEL
Energy efficient home, on the market, well positioned for fire season, now year-round; media tours offered
In an outage, eco-friendly technologies can keep the fridge running, lights on and clean air circulating for up to a week
With experts warning that Southern California's fire threat is now year-round, one San Gabriel Valley couple has overhauled their home to keep the air inside breathable and the lights on while doing their part to cut carbon emissions. The home, showcased by Southern California Edison as a net-zero energy "green dream," is now for sale to help the next family live in a healthy, comfortable, secure and economical haven.
Chris Stratton and Wen Lee did the renovations themselves. They kept a blog about their three-year project that's something of a How-To on the latest technologies, which can keep the fridge running, the lights on and clear air circulating for up to a week. Indeed, they turned off their fossil fuel gas supply line and cut their energy use by nearly 90%. The couple is offering media in-person tours of the all-electric home, powered entirely by renewable energy.
Stratton and Lee have demonstrated what a broad coalition of environmental groups and others have just urged the state of California to do: require builders to electrify homes, chiefly with gas-free heating, cooking and hot water technologies. The California Energy Commission is expected to adopt a revised building energy code (Title 24) this summer.
"Wen and Chris have created a home that models the newest global trends in resilient green housing," says Izumi Tanaka, the GREEN Realtor selling the Temple City home. "Today, the focus is a whole-house approach that's about adopting to a new climate reality, and that means a lot more than just solar panels. But it also means cutting home operating costs permanently."
The couple refurbished Lee's childhood home, sailing through last summer's nearby Bobcat fire with fresh, clean indoor air, the lights on and air conditioning and appliances humming (unlike many neighbors). Why DIY? Stratton wanted a learning project. The experience should come in handy. The U.S. had only about 22,000 net-zero energy single- and multi-family dwelling units in 2018, but that number grew by 26% to about 28,000 units last year, according to the Energy and Environmental Building Alliance.
"Our home doesn't burn fossil fuel anymore," says Lee. "We replaced our natural gas appliances with electric versions that are powered by clean, renewable energy from our solar panels. Also, during the wildfire, we were protected from all the smoke and ash because our house is airtight and we have a whole-house ventilation and filtration system. With a toddler, indoor air quality is especially important."
It's also been good for their pocketbook. The couple, who work in climate research and advocacy, pays nothing for energy. Instead, the electric utility pays them for their any unused solar energy (which even makes up for their utility service fee). Also, their home energy costs include transportation, because they charge their electric car at home. And they expect their savings to remain constant in the face of ever-increasing utility bills.
Other highlights of the three-bedroom, 1,400-square-foot home:
Heat pumps for ambient heat, air conditioning and water heating
Efficient electric washer/dryer, gas-less induction stove
4-kW rooftop solar array
Continuous ventilation and filtration system, which keeps clean, fresh air circulating 24/7
"Superinsulation" that's extra thick and efficient
An air-tight "building envelope" that keeps indoor temperatures at 70 degrees (even during heat waves) and vastly reduces air conditioning and heating needs
Double-paned windows, which help keep the home quiet
EV charger (Level 2)
Water-saving toilets, showerheads and faucets
Vaulted ceiling made of reclaimed wood flooring
No-lawn, drought tolerant yard plus food garden
A recent Public Utility Commission analysis found that "all-electric homes and electric vehicles could result in over $100 per month reduction in overall energy bills."
The home also has a 13.5-kWh battery system that stores clean, solar-generated electricity and can keep lights and appliances running up to a week or longer during outages, says Stratton, and allows owners to buy electricity from the grid when the price is low and sell it back when high. Extreme weather, causing fires and storms, and a strained grid have left millions without power in recent years and outages have been more common, with blackouts continuing to loom as a threat this summer.
The house is Southern California's first and only Pearl GOLD Certified home, a Virginia-based certification system that helps homeowners and realtors quantify the value of home technologies.
Izumi Tanaka: (310) 749-9091; 5508HarkerAvenue.com; izumi@izumitanaka.realestate