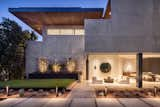 Credits
Architect
Geddes Ulinskas Architects
From Jillian DeSantis
When Geddes Ulinskas Architects was enlisted to design a 12,200 square-foot home in the heart of San Francisco's desirable Cow Hollow neighborhood just north of Pacific Heights, the developer, Troon Pacific, gave one overarching goal: to design a home unlike any other residence in the city. Situated on a unique double-wide lot, a rarity for the Bay Area, the home seeks to blur the lines between indoor-outdoor living with biophilic design practices at play and integrated natural elements. With a minimal-modern aesthetic and a sculptural, artistic approach, Geddes Ulinsksas crafted a contemporary home with soothing, forward-thinking architectural elements that maximize views of the city and pushes the limits of what design can do.
Sprawling over three levels with each floor measuring about 4,000 square feet, the home includes six bedrooms, seven full bathrooms, two half bathrooms, and a three-car garage. The home also features a private movie theater and wine room, a gym, a 72-foot lap pool, a built-in stainless steel spa, and a wellness spa with a glass-enclosed sauna and steam shower primed for optimal wellness. With the entrance pushed back on a south-facing yard, Ulinskas was challenged to use the expansive outdoor space by creating an experience around the natural elements. Prior to the entrance, a seating area and adjacent dining room open up to the garden through floor-to-ceiling, full-width pocketed sliding glass doors. The doors cast a minimal footprint to create the most transparent relationship between interior and exterior living. The structure is pulled back from the exterior walls with the columns set in with glass to create a floating-like effect of the roof to allow for a linear ribbon of bronze windows throughout the home.
Upon entry, a motorized, 20' tall main entry door opens to a double-height atrium. The expansive foyer greets guests with a split-face stone wall and reflecting pool along with a two-story steel and glass stairwell. Masterfully crafted by Oakland-based artist, John Lewis, each detail was purposefully selected to serve as a piece of art in its own right. Every tread is a cast sculpture made of solid, four-inch thick glass poured into a molten form and cooled over three months. At the top of the staircase sits an uplifting, operable skylight while soaring ceilings and cascading daylight impart a weightless flow from room to room.
In the front sitting room, natural materials such as wood and hand-textured stone expertly marry sophisticated custom paneling and blackened steel finishes to deliver a refined aesthetic. Nature-inspired hues such as charcoal and dark green are complemented by fixtures inspired by water ripples, lightning, and other fractal forms. With a layout conceptualized by organizing the experience around the entry garden, the doors open entirely up to the terrace to further bring the outdoors in.
Moving into the living room, the tastefully restrained palette allows the view of the bay and several prominent San Francisco landmarks to speak for themselves. Similar to the rest of the home, floor-to-ceiling sliding glass doors open up to a terrace that overlooks the backyard and swimming pool. Inside, fabric is stretched over the ceiling to allow for technical integration of speakers and additional equipment without disrupting the design to keep the aesthetic clean and modern.
Perfectly manicured and thoughtfully designed, Ulinskas makes use of the large rooftop deck to capture uninterrupted, panoramic views of the Golden Gate Bridge, San Francisco Bay, and beyond. Ample seating allows for room to entertain and catch the sunset while a rectangular stone-crafted fire table provides year-long warmth for chilly NorCal nights.
Cow Hollow Residence is a prime example of Geddes Ulinskas' ability to create custom, high-end spaces that unite the client's vision with the surrounding topography. Through a combination of timeless design, cutting-edge practices, and art-driven materials, the home demonstrates the best of modern California architecture rarely seen in the Bay Area.
Photo credit: Jacob Elliott.
Developer: Troon Pacific