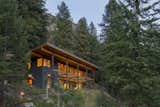 From Prentiss + Balance + Wickline Architects
The Chechaquo cabin began with a simple request: a quiet retreat for two that could double as a place for entertaining friends and family. The result is an open-concept floorplan with an easy flow, laid out as a long, narrow rectangular house half-buried in the steep slope and nestled between three large fir trees. A generously overhanging roof is supported by an exposed steel and glulam structure, forming a loggia and shading extensive outdoor living spaces.
Sited at the base of Flagg Mountain, the sweeping Methow Valley and North Cascades views lie mainly to the south, presenting both opportunity and challenge. Extensive glazing on the southern façade brings in these views and much-needed winter sun, while deep overhangs to the south and east shade the upstairs bedrooms during the summer months.
The ground floor mainly consists of the contiguous kitchen/dining/living room, with high windows that let in both down- and up-slope views, providing a near panoramic sense of the grade change from within. This space extends beyond its walls, opening onto almost 900 square feet of covered outdoor patios. As outdoor living rooms, the patios provide perfect spots to lounge on sunny afternoons or gather around an outdoor fireplace on cool evenings. The secondary private spaces, including the master suite, guest quarters, and a reading nook, are all secluded upstairs. A deck off the upper level master suite offers a private outdoor area and a hot tub, supported by the higher grade behind.
A simple material palette plays a supporting role: corrugated metal and plywood panels, exposed steel and glulam structure, and glass are thoughtfully detailed and layered onto the concrete base. The unfussy program and simplified form, coupled with the extension of space outside, creates a sense of expanded ease that belies its relatively small, 1700 sf size.