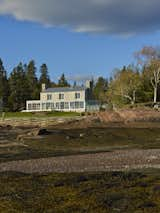 Credits
Architect
A.J. Diamond, Diamond Schmitt Architects
Zvonimir Cicvaric, Diamond Schmitt Architects
Richard Gradon, DFS Inc., Architecture and Design
Landscape Design
Sparling Landscape Architects
Builder
ICR General Contractors Limited
Fundy Engineering Limited
From Paul French
Diamond Schmitt Architects doesn't design many private residences – we have about a dozen in our portfolio, exceptional properties in Mustique, Switzerland, the US and Canada, both in urban centres and rural settings. I'd like to share with Dwell this first look at our latest design.
St. Andrews is a quiet and historic Maritime town located on Canada's east coast. This waterfront property has been in a family for several generations and faces the Bay of Fundy, providing a ringside seat to the daily spectacle of the highest tidal change in the world.
The compound includes the original residence, a swimming pool and guesthouse. To make way for the next generation, they decided to demolish the guesthouse and construct a new edifice to meet their living needs.
The new house takes the form of a thin rectilinear building type situated parallel to the shoreline and oriented in an east-west direction taking full advantage of the view. The site slopes gradually in section from the local road down to a gabion timber retaining wall at the water's edge to protect against exceptional tides. Raised above grade, the ground level provides an open floor plan accommodating the public portions of the program divided only by a central stair. Adjacent to the kitchen is a screened porch, which serves as transitional space as well as a protected exterior room. From here, one can access a wood deck that gradually transitions to grade.
The design is informed by the local Maritime vernacular. In adopting a simple pitched roof profile and taut silhouette, an almost anonymous architecture is created. The cedar shake cladding, stone base and standing seam aluminum roof all allude to and complement the original house, creating a cohesive and framed compound.
Primarily a summer residence, it has a passive system to address the southern exposure and help cool the house during the warm summer months. Strategies include cross ventilation, sun shading devices and air circulation. A combination of full height lift-and-slide windows coupled with insect screens, the use of ceiling fans, sliding exterior louvers for the upper level and motorized awnings are incorporated into the design.