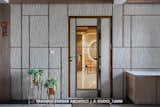 Apartment Interior At Darshanam Clublife In Vadodara
Credits
Architect
Prashant Parmar Architect
From Prashant Parmar Architect - Shayona Consultant
Located in the Porsche area of Vadodara, this 4bhk apartment of 2,300 sq ft is luxurious as well as minimal which is truly one-of-a-kind.
The main door designed here is adorned with striated textured MCM Cladding for giving a raw and robust look to the Entrance. This door is a reflection of the contemporary style that runs throughout the space. Upon the entrance, you'll be greeted with a sense of understated elegance and sophistication that is carried throughout the interior. The vestibule here is attached to a temple adding positivity and spiritual vibes to the house. This space has been designed to be both functional and aesthetically pleasing, with a simple yet striking design that sets the tone for the rest of the interior. The use of a circular mirror on the backdrop highlights the space in a unique way.
Moving towards the drawing room, it is the epitome of comfort and style with a cozy yet sophisticated ambiance. This space is perfect for relaxing with family or entertaining guests. From the luxurious furnishings to the eye-catching decor, every detail has been designed to create a space that is both functional and beautiful. The dark grey-colored back wall of the drawing room acts as a backdrop to the sitting area. The large size of the drawing room provides ample space for relaxation and entertainment, making it the perfect place to unwind after a long day.
The dining area, balcony, family sitting area, and kitchen are all interconnected with each other, creating a sense of flow and continuity throughout the space. The kitchen has been designed with a modular layout, ensuring that it is both functional and easy to maintain. To experience luxurious dining, the dining table here is made with the Onyx Marble Top. Also, one can enjoy watching TV by sitting on the comfortable recliners that are attached to the Dining Area. The interconnectivity with the balcony keeps the user connected with nature the whole day.
The apartment features 4 spacious bedrooms, each of which has been designed with a unique and personalized touch. From the materials used in the flooring to the colors on the walls, each bedroom has its own distinct character that reflects the tastes and preferences of its occupant. All the bedrooms are equipped with various materials like Wooden Fluted Panels, PU Finish Wardrobes, Veneers and Laminates, Stone Veneer, etc. providing an exclusive and unique look to all the bedrooms.
Overall, this interior project in Vadodara is a testament to the power of thoughtful design. From the raw and robust look of the main door to the interconnected layout of the living spaces, every aspect of the project has been carefully considered and executed. It is a luxurious yet practical space that is sure to impress anyone who steps inside.