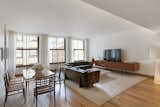 An Historic TriBeCa Building Reborn
Credits
Architect
Developer: SORGENTE GROUP OF AMERICA
Preservation Architect: CTS GROUP
From Zola Windows
Located in the heart of Tribeca, 6o White Street marries the epitome of high-end design and craftsmanship with the most exacting standards of architectural preservation and environmentally conscious construction. The developer of this reimagined 1869 building – with a collection of eight residential lofts – is the Sorgente Group of America. With careful selection of materials and inspired interior design, all the charm, character and history of a landmark edifice are preserved and celebrated, while creating the perfect modern loft experience.
 
Zola Windows played a crucial role in helping to embrace and engender the "Passive House" construction standard, allowing a landmark protected large commercial building to be transformed into an architecturally precise, low energy, high performance masterpiece. For 60 White Street, a brand new class of window was developed that pushes the technological envelope while faithfully replicating the look appropriate for a 146 year-old historic edifice. Spanning three panes, Zola's American Heritage SDH (Simulated Double Hung) window helped create a well-insulated, draft free building envelope akin to a thermos bottle. This award-winning, replica-quality window boasts industry-leading airtightness and thermal performance, coupled with craftsmanship that is befitting of even the most detailed historic restorations.
 
60 White lofts boast large and gracious rooms with ample lighting making for a modern and luxurious space. Approximately 80% of the project's materials were reused or maintained from the existing structure. The rest of the finishes were sourced locally, helping to breathe new life into the wondrous souls of these stunning buildings. Some of these locally sourced materials include Vermont Danby Marble from Vermont Quarries – home to the world's largest underground quarry – and 300 year-old reclaimed oak from The Hudson Company, an undeniable leader of the reclaimed wood industry. The marble embodies the outstanding performance and durability of the project, while the reclaimed wood speaks to the natural and historic quality. Another striking component of the project is the Biophilia and the use of nature to improve the building's living conditions. Featuring a planted living green wall in the lobby, which offers aesthetic charm while contributing to a healthy and natural ventilation system. These materials help execute the vision of excellence, sustainability, and historic preservation – choosing to honor the past while building for the future.