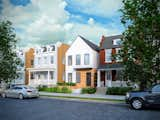 From re|RVA real estate team
Like the majority of the early 20th century Museum District properties that were influenced by the european city homes common at the time of their construction, 125 S Colonial is a modern scandinavian-inspired home that captures the classic massing and proportions of S Colonial Avenue in Richmond VA while offering a refreshingly bright and intuitive living experience.
Notable features include: open air front entrance with integrated planter boxes, a true first floor master suite, a loft office or family room overlooking the 27+ foot tall vaulted living area and the immense wall of windows on the rear of the home, a perfectly sized rear yard designed for entertaining, gas fireplace and cooking, off-street parking and a plethora of luxury finishes.
This open concept floor plan is truly unique in the RVA city market and just a few steps from Carytown. Completing the design at both the front entrance and entire rear of the home is natural cedar cladding that softens the stark geometric lines and weight of the property and warmly welcomes you home to this true neomodern masterpiece.