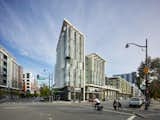 Credits
Architect
Mithun/Solomon is Executive Architect
Landscape Design
GLS Landscape Architecture
Builder
James E. Roberts-Obayashi Corp.
From Kennerly Architecture & Planning
1180 Fourth Street marks the corner of Fourth and Channel Streets as a gateway to San Francisco's burgeoning new Mission Bay south neighborhood. The 216,000-square-foot project houses 150 low income, and formerly homeless individuals and families, currently including 260 children. It brings diversity of age, race, and income to this booming new district. Restaurant and retail space totaling 10, 000-square-feet anchor the Fourth Street retail spine of the new neighborhood.
The project occupies a full city block with the mid-block developed as a multi-level courtyard serving a rich program of tenant services, daycare, community gardens and common spaces. A large community room with kitchen is prominent on Channel Street, serving the larger community as well as the project. Common amenities – including exercise and study rooms, urban farming plots and sociable laundry facilities, barbecues and play fields – emphasize fitness, nutrition, education, and community life, and are transformative in the lives of many tenants. Corridors and lobbies are flooded with daylight and capture dramatic city views. Indoors and out there are multiple routes, and nooks and overlooks for children and parents to explore and enjoy.
The Mission Bay neighborhood has frequently been criticized as socially homogeneous and physically bland, lacking the charm and complexity of the rest of the city. The project responds to this criticism with architectural zest in the different character of its very different street environments, and with transparency from the streets into the richly designed world within.
Project Team:
Architecture: Mithun/Solomon is Executive Architect (originated WRT/Solomon E.T.C.), Kennerly Architecture & Planning is Associate Design Architect, and Full Circle Architecture as Associate Architect
Contractor: James E. Roberts-Obayashi Corp.
Landscape: GLS Landscape Architecture
Civil Engineer: Urban Design Consulting Engineers
Structural Engineer: Tipping Structural Engineers and Bello & Associates MEP Engineer:Ajmani & Pamidi Inc.
Lighting: Horton Lees Brodgen Lighting
Design Acoustical Engineer: Mei Wu Associates
Waterproofing Consultant: Gale Associates
Photography:
Bruce Damonte