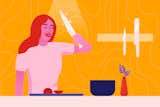 Dwell On This: You Only Need These Three Knives
Any way you slice it, these are your kitchen essentials.
Experience
The only skill you'll need is discipline.
Budget
It doesn't cost a thing to edit down your collection, but you might think about investing in fewer, better knives.
Time
You just need a few determined minutes.
Omne trium perfectum: Perfection arrives in threes. From lofty ideals (life, liberty, and the pursuit of happiness) to earthly delights (sex, drugs, and rock 'n' roll), the logic of the triumvirate has been proven many times over, and it's also perfectly applicable within the kitchen—specifically when it comes to decluttering your dull-edged collection of knives.
Join Dwell+ to Continue
Subscribe to Dwell+ to get everything you already love about Dwell, plus exclusive home tours, video features, how-to guides, access to the Dwell archive, and more. You can cancel at any time.