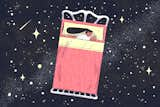 Dwell On This: Soundproof Your Bedroom
To stop tossing and turning, you have to tune out the noise.
Experience
You'll just need some soundproofing accessories.
Budget
Sometimes all you need is a thick rug to soak up some noise.
But you can also invest in a heavier duty solution.
Time
This just takes a bit of research and planning.
People will spend weeks deliberating over the most comfortable mattress, the ideal bed frame, or the silkiest set of sheets in the pursuit of a good night's rest, but all those efforts would be wasted without the assurance of peace and quiet in the bedroom. Silence can't be dictated as easily as thread count, nor can it be shipped directly to your door, but keeping intrusive sounds at a minimum will help you wake up refreshed every morning.
Join Dwell+ to Continue
Subscribe to Dwell+ to get everything you already love about Dwell, plus exclusive home tours, video features, how-to guides, access to the Dwell archive, and more. You can cancel at any time.