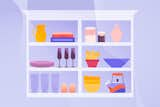 Dwell On This: Take Off Your Kitchen Cabinet Doors
Welcome to the wonderful world of open shelving.
Experience
Some basic tools will do the trick.
Budget
No need to purchase anything!
Time
Removing cabinet doors doesn't take a lot of time, but you might need to spend a few hours organizing everything inside.
Every kitchen has a dirty secret or two, and more likely than not, you've been hiding them behind a cabinet door. The mismatched, chipped, and the hopelessly stained. Appliances used once or twice, then exiled, soon to be forgotten. The highest kitchen cabinets are the worst offenders, since we tend to store our least used items out of sight and out of mind. If you want to play an archeologist for the day, venture into the recesses of your highest cabinets, and get ready to be surprised.

Join Dwell+ to Continue
Subscribe to Dwell+ to get everything you already love about Dwell, plus exclusive home tours, video features, how-to guides, access to the Dwell archive, and more. You can cancel at any time.