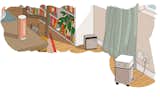 Breathe Easy With These Tried-and-True Solutions for Indoor Air Pollution
It's a global crisis, but there are ways to protect yourself.
The air in our homes is killing us. The World Health Organization calls household air pollution the "largest single environmental health risk" in the world today, causing the death of nearly 4 million people around the globe every year.
Join Dwell+ to Continue
Subscribe to Dwell+ to get everything you already love about Dwell, plus exclusive home tours, video features, how-to guides, access to the Dwell archive, and more. You can cancel at any time.