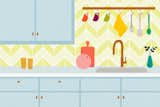 Dwell On This: Ditch Your Extraneous Kitchen Gadgets
Be honest—are you really using that herb infuser?
Experience
You'll be decluttering in no time.
Budget
If this costs you money, you're doing it wrong.
Time
You can clean out the kitchen in an afternoon.
Real talk: your kitchen is a hot mess. That juicer you purchased five years ago during your short-lived cleansing diet that's been sitting on top of your fridge for the last two years? You're likely never going to use it again. Same for that sous vide contraption purchased with hopes of awakening your inner molecular gastronomist, but now only occupies the deepest, darkest recesses of your kitchen cupboard. We won't even get started on that mug collection that seems to multiply like rabbits left unattended.

Join Dwell+ to Continue
Subscribe to Dwell+ to get everything you already love about Dwell, plus exclusive home tours, video features, how-to guides, access to the Dwell archive, and more. You can cancel at any time.