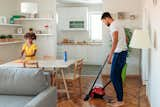 Give Your House Presents This Holiday Season
Put your gift-giving budget to good use—and spruce up your home.

The Dwell+ library of how-to guides has been unlocked for free for a limited time courtesy of Level, whose smart locks pair high design with an intuitive approach to home entry.
Learn More
A few weeks ago, my partner asked if he could get me a vacuum for Christmas. "We need a new vacuum," I said, "but please don't get it as a gift for me. Let's get it together, as a gift for the house."
Once we realized that we could spend this holiday season buying presents for our home, it changed everything—the difficulty of having to decide what to buy each other when neither of us want more clothing or jewelry or gear, the complications that come up when a household appliance is given from one person to another, the tedium of swapping wish-lists and shopping alone. Now we're planning our holiday shopping together, and we're basing our purchases on what we agree will spruce up our home—a pepper mill, an air fryer, the aforementioned vacuum.

When you give your home presents, you have all the fun of buying gifts for someone you care about—and all of the pleasure of receiving exactly what you wanted. I'm not the only person to have this idea, of course. It's expert-approved.
"On Christmas morning," explains Cristina Lehman, owner and principal designer at C.Lehman Home, "my husband and I will have presents to open that we're both excited about and we'll get some house projects knocked out at the same time. That's a win-win!"
Get your partner (or your people) on board
If you want to turn this year's holiday season into an opportunity for home improvement, it's a good idea to tell the people you live with as soon as possible—and if you live alone, you might want to let family and friends know what you have in mind. In Lehman's case, the topic came up fairly naturally."My husband and I recently started talking about our kids' Christmas lists," Lehman recalls, "and the topic came up of what to buy each other. I suggested that instead of getting each other gifts, we should buy things that we need for the house."

Like many of us, Lehman has reached a point in her life where she doesn't need any more stuff—but her house does. "I didn't want to get a bunch of things that I may or may not use this year," says Lehman, "so I thought that being thoughtful about what we really need and have been putting off around the house would be great."
Lehman's husband agreed that they should reallocate the money they were planning to spend on each other, passing up personal presents in favor of furnishings and finishes. "Some of the things on our list are an air purifier, a Samsung Frame TV, a small air-conditioning unit for our kitchen, and some shelving for our garage."
Keep the holiday spirit alive
Just because you and your partner aren't planning on buying gifts for each other doesn't mean you have to miss out on the fun of holiday shopping. Nor does it mean you'll have to give up the pleasure of wrapping presents—or unwrapping a surprise package.
Start by turning the shopping process into a holiday tradition. "Make a date night out of it!" advises Anastasia Casey, founder of IDCO Studio and The Identité Collective. "Grab some peppermint lattes and walk through Costco or Target to browse the latest and greatest." If you prefer to browse shopping guides online, consider putting on your holiday flannel pajamas or mixing a special holiday cocktail before cuddling up with your partner, hanging out with your roommates or FaceTiming your parents and searching for items to add to your shopping cart.
Then, make sure you wrap every gift—yes, even the enormous air-conditioner box—and even though you may want to start using your new shelving unit or cordless vacuum as soon as it arrives, leave the gifts alone until it's time to unwrap the presents, to prevent any day-of disappointment if your usual haul is small.
If you have kids, you may want to employ some strategic measures to ensure that your holiday experience matches theirs. Lehman and her husband, for example, are going to wrap the gifts they buy for the house—and label them "from Santa." You and your partner may also want to buy one or two surprise items for the house, so that each of you will have the fun of opening at least one package that contains an unexpected gift.
Stick to the plan — and the budget
On the subject of unexpected gifts—since you and your partner are likely to still want to buy each other at least one personal present, go ahead and work that into the plan. "I had a feeling that my husband still wanted to get me something," says Lehman, "so I sent him two things I've been wanting for myself and told him that we could get each other one gift each."
Casey agrees, and suggests you keep the budget for personal presents as low as possible. "Any gifts that aren't for the house should cost less than $20," she advises, "or better still, be something you make." (For her part, Lehman has decided to allow herself and her husband to spend up to $100.) And yes, you need to make a budget before you start shopping, lest you get carried away. On the flip side, any purchases you make for your home this holiday season could come out of either your holiday gift budget or your home improvement budget—which means you could end up with more money to spend on your home than you originally thought.
"I think the key here," Casey explains, "is to adjust your spending during the last few months of the year. Once fall begins, any dollars you might otherwise spend on home improvement could go towards your budget for holiday house presents." That way, you'll have the holiday you want—without spending more than you can afford. As Lehman might say, that's a win-win.
Photo by PixelsEffect / Getty Images