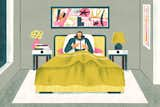 Dwell On This: Make Your Bedroom a Device-Free Zone
Don't be held captive by screens in your own sanctuary.
Experience
Anyone can try this.
It just takes some willpower.
Budget
This puts the "free" in "device-free."
Time
Making the change takes just a couple minutes.
Forming the habit, however, is up to you.
Admit it—you've long been mired in an unhealthy relationship, and you're probably losing sleep over it. The toxic entity that we're talking about is none other than your phone. The average person spends more than three hours a day messaging, shopping, and doomscrolling on their devices, and for many, a sizable portion of that happens in bed. Needless to say, we've all been trained by the algorithms that be to check our notifications "just one more time," and the Pavlovian conditioning is particularly ruinous when it comes to getting a good night's rest (not to mention your mental health).   
Join Dwell+ to Continue
Subscribe to Dwell+ to get everything you already love about Dwell, plus exclusive home tours, video features, how-to guides, access to the Dwell archive, and more. You can cancel at any time.