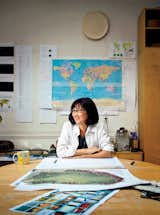 Women to Know in Design Part Two
From women who make moves behind the scenes to an architectural theorist who hit the proverbial glass ceiling in the 1940s, here are more women in design worth knowing. Check out part one here.
Long before it was in vogue to do so, Susan Weber founded $20 million to found The Bard Graduate Center: Decorative Arts, Design History, Material Culture (BGC), at the time on of the view pillars of decorative arts. Read about how the center has progressed, the continual popularity of mid-century design, and more.