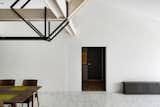 The remodeling project for the 30-year-old Mock-dong 3 Danji Apt.
· DESIGNER : STARSIS
· LOCATION : Mokdong Apt. 3 Danji, Mok 5-dong, Yangcheon-gu, Seoul, Republic of Korea
· AREA : 160 sqm
· PHOTOGRAPHER : HONG SEOKGYU
· ARTICLE : HWANG INIL

Korea-based Starsis designed the interior of the 30-year-old Mock-dong 3 Danji Apt. in Seoul, Korea.
Some people might say that the market trend has shifted to online to offline, but many architectural and interior contracts are still made through networks. Competence should be prioritized in both fields and checking a studio's competence via online market has an array of limitations.
Starsis would like to introduce the remodeling project for 50*-ho of Mock-dong 3 Danji Apt. which was open in September, 1986 and turned 30 this year. We fortunately started this project thanks to the request of our clients that we got to know in our previous project. The clients we met was a couple in their 40s to 50s and they requested us to design this place saying that they want to live together with their teenage son for a long time there.