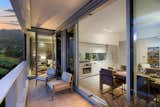 Ten Thousand Unveils First Look at Life Inside the Elegant Los Angeles Tower
Los Angeles' most distinguished residential property Ten Thousand is offering a peek inside the new model residences within the building on the heels of opening and welcoming the first residents in January 2017. By national developer Crescent Heights®, the 40-story angular glass-sheathed tower at the intersection of Beverly Hills and Century City offers two- and three-bedroom residences and a quintessential Los Angeles lifestyle where indoor and outdoor living are seamlessly and elegantly intertwined. Ten Thousand is distinguished by an unprecedented level of service delivered by a dedicated team of more than 60 professionals, a carefully curated private art collection, first-of-its-kind technology amenities and a supreme wellness program.
In the residences, floor-to-ceiling windows, combined with the building's unobstructed site lines, result in panoramic views spanning from downtown Los Angeles and the Hollywood Hills to the Pacific Ocean. Crescent Heights® envisioned an elegant, intrinsically modern aesthetic throughout the tower to complement Los Angeles' contemporary lifestyle while reflecting the present day. Within four two-bedroom model residences on the 16th floor, Ten Thousand showcases furnishings from four notable design houses – Shamir Shah Design, Martyn Lawrence Bullard, Mitchell Freedland Design and RH Modern – each distinctively unique and reflecting the best of quintessential California living to appeal to multiple tastes.
Ten Thousand offers residences for rent from $9,000/month up to $25,000/month. Visit www.livetenthousand.com or call 310 556 0001 to learn more.