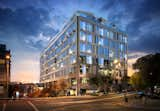 Sustainability Meets Artistic Opulence at The Pacific
Inspired by the grand legacy of Pacific Heights, The Pacific is a stellar example of luxury meeting sustainability to create a magnum opus. Renowned for its collection of meticulously designed homes combined with five-star service and amenities, the building is a LEED-certified architectural marvel that not only incorporates adaptive reuse and achievements in energy efficiency it places emphasis on healthy indoor air quality and water-use reduction.
Also known as the Pacific Height's crown jewel, The Pacific is a boutique community of 76 residences representing the pinnacle of cosmopolitan living in one of San Francisco's most sought after enclaves. Each residence features distinctive entertaining spaces, chef's kitchens, up to 11-foot ceiling heights and floor-to-ceiling windows with picturesque views of San Francisco that span from the Bay, the Golden Gate Bridge, the Presidio, the Marin Headlands, Tiburon and Sausalito, to the Island of Belvedere.
Designed by Handel Architects, The Pacific is the first large scale newly constructed residential development in Pacific Heights in decades. Nestled next door to Fillmore Street, the location is second to none channeling a cosmopolitan oasis near parks and quiet streets with the urban conveniences of high-end retail, Michelin-star restaurants and activities. The Pacific has drawn inspiration from the lasting residences found mainly in neighborhoods of London and Paris, marrying this with a modern interior aesthetic. The exterior architecture plays off of the neighborhood, a modern interpretation of classic Victorians' bay windows.
The building's commitment to LEED for Homes certification not only embraces the environmental benefits of green building and sustainable design, but its economic and health benefits as well. Additional LEED qualifications include bicycle storage, designated parking for low-emission vehicles, quality insulation and air sealing, high efficiency water fixtures, energy efficient lighting fixtures, low-VOC paint, good ventilation, and drought-resistant native plants.
Nestled one block from Fillmore Street, The Pacific's location is second to none, channeling an urbane oasis near parks and quiet streets with the metropolitan conveniences of high-end retail and Michelin-star restaurants.