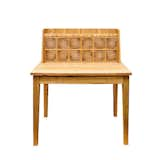 Reclaimed Wood Designs
We'd all like to do our part in cutting back on waste so how better to contribute than by doing something you directly and immediately benefit from in the process? By purchasing furniture and products made from reclaimed and recycled wood, we eliminate the incessant cutting down of new trees and end up with possessions that are both beautiful and have a little history. Check out three of our favorite reclaimed wood designs here.
OF SCOTT'S GRANDMOTHER AND RECLAIMED WOOD He lists his grandmother ("who recycled everything") as his inspiration. How can you not be smitten with Scott Raffaele? He custom designs and produces all of the furniture for his brand 4Korners from recycled and reclaimed woods, with materials ranging from bamboo to white oak.
THE SECRET LIFE OF KENTUCKY BOURBON BARRELS There seems to be more reclaimed wood in Brooklyn than trees themselves. This probably is both a good thing and a bad thing—reclaiming used wood being the good half of that equation, and any tree-less block the bad half. Enter Uhuru: the Shaker-inspired group in Red Hook that designs and builds tables, seating, beds, lamps, storage units and mirrors out of wood that has been reclaimed, recycled, repurposed, reused or otherwise rejected from its original purpose.