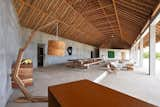 CASA WABI
TADAO ANDO CREATES SPACE TO CULTIVATE CREATIVE AND COLLABORATIVE CONNECTION
Sense of Community Both in Deign and Function.
Put simply: there's no other place quite like Casa Wabi. Located just twenty miles northwest of Puerto Escondido, this holiday home in Oaxaca is a robust Art Residence serenely secluded on a quiet beach between the Pacific Coast and the Sierra Madres del Sur mountains. The Casa Wabi Foundation itself was initially founded as a multicultural, multidisciplinary art foundation for artists to find refuge, hone their crafts, and work together in an inspiring environment.
Casa Wabi has since opened its doors to all travellers interested in getting a peek inside a unique hub of idea-sharing and creativity. All proceeds go directly to furthering the foundation's community programs which encourage a dialogue between their residents and the surrounding local communities.
With Japanese designer Tadao Ando at the helm, the execution of Casa Wabi was a collaboration of eight architects, who all came together to conceive of six separate sites clustered around the main central complex.
Each element of the residence's design has been carefully considered to facilitate free-flowing thought for all who enter, and to encourage creative connections between residents.
Casa Wabi aims to strip away frivolity and provide a new perspective from which artists can engage with their practice. Any and all travelers are welcome to this environment, where they too can experience a meditative community filled with introspection and connection.