13 Modern Prefab Cabins You Can Buy Right Now
Construction in a controlled factory setting means these cozy prefab cabins are not only space-efficient, but also carefully built.
Prefabricated homes are known for their high quality of construction and quick build times—but that doesn't mean that these residences sacrifice on design. Here, we take a look at 13 prefabricated cabins that are modern, sleek, and eco-friendly.
Czech prefab home company Freedomky produces modular, prefabricated cabins that can be added to after initial purchase and construction—perfect for a growing family. Their Model M, the most classic model by Freedomky, is "a beautiful, clean and comfortable living space for a couple, our first 37-square-meter. A magnificent kitchen with a relaxing zone can bear a small party or become a place for recreation."
Newsletter
Join the Prefab Homes Mailing List
Get carefully curated content filled with inspiring homes from around the world, innovative new products, and the best in modern design
At 74 square meters (797 square feet), this variation of the Vinkelhuset line by Danish modular cabin designer Møn Huset is L-shaped in plan and hits all the right notes, boasting clean lines, a practical gabled roof, and simple, attractive detailing on the interior.
Shop the Look
This line of prefabricated homes brings a non-traditional way of building to Brazil by creating prefabricating pieces using a plug-and-play logic so that they can be rearranged and organized. For this variation atop a hill, a cross-form plan was developed to allow views looking out to each of the cardinal directions.
Inspired by the barns of the Midwest, Alchemy designed a prefab house that takes all its clues from the 19th century but updates them for the 21st century. Featuring large openings, a sleeping loft, and cellar-level bedrooms under a gabled roof, the Barnhouse is also available in different interior finishes including ash and steel.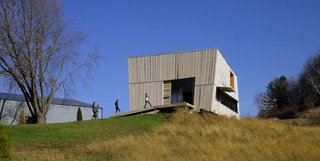 Kenjo, a Swedish company that makes prefab homes, has created a new product called Friluftsstugan, or Outdoor Cottage. Designed by Johan Svartnäs, the cabin emphasizes indoor-outdoor living with a movable roof and an ample covered wooden porch. The home comes preassembled—all that needs to happen is for it to be lifted into place.
As Swedish architect Jonas Wagell explains, "the idea behind Mini House started in 2007 as a simple, but refined 15-square-meter cabin equipped as a weekend resort or guest house. Flat-pack delivery and quick set-up were key features." Today, the cabin is available outside of Sweden as prefabricated volumes that are transported on a truck and placed by crane on the final site. All homes are finished with hardwood floors on the interior and wood panels on the exterior.
Based in Seattle, Washington, prefab home manufacturer FabCab designs environmentally-friendly homes and accessory dwellings that incorporate eco-friendly materials and energy solutions to support a healthy lifestyle. Their TimberCab series of homes feature high-quality materials like Douglas fir timber frames and interior finishes. The structural framing and wall/roof panels are pre-cut in a factory using state-of-the-art technology for an efficient construction.
Inspired by the shapes of local mountains in Scandinavia, this prefabricated home in Sweden features a pitched roof, similar to traditional single-family houses, but with the peak cut off for a modern flair. The home is built by Fiskarhedenvillan, one of Sweden's leading suppliers of high quality one-family houses.
Australian-based Ecokit subscribes to the belief that a "house can be made to be far more sustainable, intelligent and completely self sufficient." With those ideas in mind, they've created a small house made of prefabricated engineered timber frame, clad in roof tiles. The home is intended to be a low-energy kit home, with minimal operating costs and a positive environmental impact.
Twin Cities-based firm Alchemy has created a variety of homes based on their modular weeHouse series. Consisting of "building blocks" of 300 to 850 square feet, the small homes can be modified to clients' needs. Manufactured in Minnesota, the homes can be shipped throughout the United States, and often arrive on site at least 90% complete.
Based in New York but with an international team, Cocoon9 delivers prefab, plug-and-play houses—tiny, modern homes with quality construction, high-end finishes, smart technology, energy efficiencies, and versatile spaces, delivered fully assembled, on-site in four months. The Cocoon Cabin is designed as a 480-square-foot, one-bedroom home with solar panels and roof gardens for a sustainable twist, as well as efficient planning and design including furniture and storage that folds away into walls, floors, and ceilings.
Shop the Look
The Torino, Italy-based company Leap Factory has developed LeapNest, a small cabin made of natural materials and built with sophisticated techniques that lend it durability, resistance, and energy efficiency. The cabin is appropriate in a range of locations, from poolside to mountain-top, and can be sold pre-assembled or not, empty or ready-to-use with customized interior furnishings and finishes.
Ábaton, a Madrid-based architecture firm, developed the ÁPH80 series as a dwelling ideal for two people that can be easily transported by truck and brought to nearly any site. Three main spaces comprise the interior: a living-room/kitchen, a full bathroom, and double bedroom. Most of the materials on the interior and exterior are sustainable and recycled, and the exterior is covered with grey cement board.