View Photos
3 Dynamic Solutions For Championing Seamless Indoor-Outdoor Living in Your Home
From the illuminating natural light to the refreshing, crisp air, there are countless benefits attached with indoor-outdoor living. Here, we share three refined product solutions for establishing a rich connection with Mother Nature, all while featuring lots of drool-worthy homes in the process.
Now that the long, warm days of summer are just around the corner, there's no better time to enhance indoor-outdoor living throughout your home. And fortunately, no matter the size, style, or setting of your abode, LaCantina Doors is well equipped with the solutions you need to foster a harmonious relationship with nature. Founded in 1993, the California–based company has long been celebrated for its ability to seamlessly blend interior and exterior spaces.

Below, we've rounded up some of LaCantina's top innovative systems, which have all contributed to award-winning projects across the globe. Backed by an industry leading warranty, these product solutions are guaranteed to transform your space from the inside out.
With their high-quality rolling hardware, robust panel, and frame design, the LaCantina bifold doors set the standard for style, function, and performance. Available in a handful of different materials—along with a wide range of glazing options—these doors have the ability to span any size opening, meeting the demands of any project.
Newsletter
Join the Daily Dose Newsletter
Get carefully curated content filled with inspiring homes from around the world, innovative new products, and the best in modern design
"The LaCantina folding doors are unique in that they offer openings of basically unlimited width," states Ed Ogosta, founder of Edward Ogosta Architecture. "As an architect, I appreciate the numerous options these doors come with, such as finishes, panel sizes, and details, allowing them to work great in any aesthetic."
"By opening a house at both ends with the various LaCantina doors, light, air, and movement are all able to flow freely throughout the space," Ogosta notes, "which assists in creating an intimate oasis of luminosity, atmosphere, and serenity."
Beautifully blending symmetry, strength, and performance, the multi-slide doors are another superb option for establishing an intimate indoor-outdoor connection. With the combination of architectural grade materials and AAMA-certified low-profile wheels, these oversized door panels slide away effortlessly without having to interrupt living areas.
"The LaCantina doors not only create a seamless transition between the interior and exterior spaces, but they're also incredibly easy to use," explains architect Trace Wilson, founder of Materia-LLC. "I've collaborated with LaCantina for the last 12 years and I am continually impressed by how well their doors maintain their integrity and form."
Wider and taller than typical swing doors, the LaCantina swing doors utilize heavy duty architectural stainless hinges and robust door panels. Featuring the company's signature narrow stile and rail profiles, these doors perfectly match the folding and multi-slide systems—creating the ideal solution for a complete door package.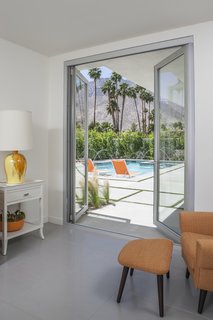 With single and double door configurations available, the swing doors also come with a concealed multi-point locking system for ease of operation and security. Like all the other LaCantina products, the swing doors feature Cardinal Glass, the world's leading glass manufacturer which has the ability to match any LaCantina door and window package, as well as meet any energy code requirement.
LaCantina door systems can also be combined to create zero-post corners, as pictured below. The zero-post corner system is a unique application that permits uninterrupted views, without the need for a supporting wall or post.

To learn more about the company's visually appealing designs, please visit the LaCantina website.