Veerle Wenes has always been interested in hybrid creations, in the blending of disciplines. When she was invited in 2009 to cocurate an exhibition at Belgium's Musée des Arts Contemporains, she opted to display "very well-known artists alongside unknown designers." The resulting show was a revelation for her. "Design and art and architecture have had a bad relationship for much of the past 50 or 60 years," says Wenes. "There was a time in the art deco period where they combined more easily."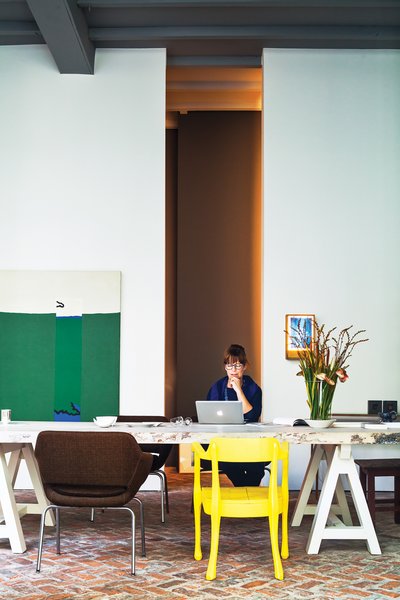 To encourage more genre-crossing activity in the 21st century, Wenes, an architect by training, decided to open Valerie Traan. It was a new kind of gallery for Belgium, one that Wenes says would exist "to mix all these worlds, and to ask architects to make furniture and designers to break out of their own sector and do other things." She also wanted to create a home for herself and her husband, Bob Christiaens, that was physically and psychically connected to her gallery. "I didn't just want a huge white place to show things," she says. "I wanted to combine my private life and my work." After searching for two years for "the right space, with the right atmosphere," she found a promising listing in central Antwerp, in a neighborhood "where brasseries come together with shops, where old and young and poor and rich all combine."
The property itself was an odd brew, half of it dating from the 19th century and the other half from 1979, with a spacious brick-floored atrium and two outdoor courtyards. It was in bad shape, with cracked PVC windows and ivy growing through the walls, but Wenes's keen eye immediately saw the possibilities. Though it would be a challenge to transform the raw space into a house, "I decided I couldn't wait another two or three years to finish a renovation," she says. "I was 54, so I said: We have to do this immediately—it's now or never." She hired Bart Lens, an architect with experience both restoring old buildings and designing contemporary structures, and, to lend extra urgency to her self-imposed deadline, she set—and published—the date of her first gallery exhibition: November 2010, just 11 months away.
"It was a bit stressy," admits Lens. "There was no time for reflection." His approach to the renovation, therefore, was straightforward. He aimed to keep as much of the original character of the space as possible while replacing the old windows with modern ones, adding walls to increase display space in the gallery, and installing a monumental white pivoting door to provide access from the street.
Today, when you enter the gallery, a low-ceilinged entrance corridor leads to a soaring multilevel exhibition space. To the right is the ground floor of Wenes's home, which consists of a living room, a dining area that doubles as a reception space during exhibition openings, and a glass-walled kitchen that overlooks the gallery's central hall. Upstairs, accessible via a spiral staircase or small elevator (a requirement by Wenes, who wanted to ensure that she and Christiaens could live there for the rest of their lives), is a master bedroom, bathroom, dressing room, and, under a glass cupola, a small guest room.
Throughout their living space are useful everyday objects by artists and designers Wenes represents, including colorful abstract cutting boards, metal trivets, and sculptural floor lamps by Muller Van Severen; wooden knives by Studio Simple and Antoine Van Loocke; and a storage system, consisting of hooks and ropes, by the textile artist Diane Steverlynck and her workmates. Though these pieces are all available for purchase through Wenes's gallery, she is quick to point out that her home is not a glorified showroom. "Collectors like to see the pieces in my own home—it helps convince them of the quality of the work—but it's not a strategy," she says. "I simply surround myself with pieces I like."
Thanks to the swift work of both Lens and Wenes, the rehabbed gallery opened on time, with an exhibition unveiling Wenes's design-meets-art-meets-functional-objects concept. The pieces on view ranged from photo-realistic fabric vegetables by Dutch duo Scholten & Baijings to copper office-supply sculptures by Belgian designer Bram Boo. As Wenes had hoped, visitors moved easily between the gallery space and her own dining room table, where she poured coffee and chatted informally about the work on display. Today, she's on her tenth exhibition, comprising a suite of objects and installations that explore the meaning of color. In between shows, she often co-opts the central gallery space, employing it as an extended dining room for family get-togethers.
Perhaps the best embodiment of Wenes's approach to her living space, however, is in a room few visitors see: the bathroom. "I did not want a minimalistic bathroom but one with emotion and surprising hidden places," she says. So she commissioned Ann Vereecken and Jeroen Worst of Studio Simple to transform a fleet of cheap vintage cabinets, mirrors, and dressers picked up at a thrift shop into an installation that spans three walls. They painted everything white and arranged the pieces in a random array. The agglomeration is equal parts art and—some quick snooping reveals—a highly practical piece of furniture, sheltering towels, jewelry, and bathroom supplies. It exemplifies Wenes's credo: "To combine work and not-work, and to live between house and gallery."