View Photos
This 1954 House by Powers, Daly, and DeRosa Features a Koi Pond That Flows Under a Glass Wall
Known as The Hastings Residence, this midcentury home pays homage to the Googie design style its architects are famous for.
Along tree-lined streets in the Bixby Knolls neighborhood of Long Beach, California, the austere facade of this single-story home reveals little of its true intention. Designed in 1954 by the eminent firm of Powers, Daly, and DeRosa, the 2,500-square-foot home is built around a U-shaped floor plan, complete with an indoor Koi pond that flows under a glass wall.
Get the Dwell Newsletter
Get carefully curated content filled with inspiring homes from around the world, innovative new products, and the best in modern design.
The home's architects Powers, Daly, and DeRosa are most known for designing some of Southern California's most famed modernist bowling alleys, including the distinctive, A-framed Covina Bowl.
The trio is also recognized as pioneers of the Googie or Populuxe aesthetic, a futurist style of architecture inspired by post-war American car culture and popular among coffee houses and motels of that era.
The current homeowners spent over a year living out of the home as it was renovated. Beyond updates to the kitchen and bathrooms, other modernizations were completed, including the addition of solar panels on the roof.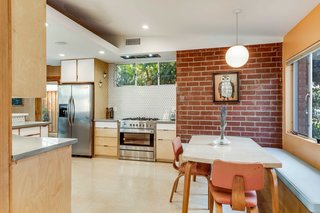 Throughout the home, thin panes of floor-to-ceiling glass serve as windows along exterior walls in between the exposed framing. The transparent style adds a striking element to the home's living areas and allows warm natural light to seep in.