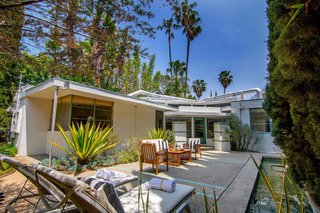 A Streamline Moderne by William Kesling Lists for $1.69M
With aerodynamic elements and nautical details, this West Hollywood home is one of the finest examples of this distinct style in Los Angeles.
Modernist architect William Kesling designed this stunning home for Academy Award-winning actor Wallace Beery in 1936. Beery, in case you haven't heard of him, was the world's highest-paid actor back in 1932—with a Metro-Goldwyn-Mayer contract that ensured this by stating that he was to be paid "$1 more than any other player at the studio."
His former 1,400-square-foot West Hollywood home, which is also known as The Beery House, features a white stucco facade with long horizontal lines and elegant curvilinear forms. Made to take advantage of Southern Californian's sunny climate, the three-bedroom, two-bath home was designed for indoor/outdoor living. It boasts bright interiors, built-in cabinetry and furniture, a flagstone fireplace, and steel casement windows. Outside, the home wraps around a lovely little backyard garden complete with a koi pond and exotic greenery—plus it's just minutes from the original Pink's Hot Dogs, a West Hollywood culinary gem. Keep scrolling to see more of this historic property, which is currently listed for $1,690,000.
Get the Real Estate Newsletter
From midcentury classics to the best contemporary spaces for sale, see the latest listings for modern homes on the market around the world.