Tendence 2012 at Messe Frankfurt: Talents 10 + 1
Recommended by
Messe Frankfurt nurtures the young designers who come to its fairs—Tendence and Ambiente, namely—to exhibit their wares. From the prominent placement of the Talents exhibition (in the main hall for good visibility) to not charging booth fees for those who exhibit (unlike SaloneSatellite) to the assistance with exhibition design and booth set up, one can tell that the Messe Frankfurt team has much invested in the next generation of designers.
While we frequently hear about the more established names—the Matali Crassets and Konstantin Grcics, who both held their first exhibitions at Messe Frankfurt—it's not often that we're privy to the path it took to get there. For many, it begins at a trade fair, where manufacturers and buyers trawl the floor to find the next great idea for production.

When it comes to hand selecting the young designers who exhibit at Tendence and Ambiente, Nicolette Naumann, vice president of Ambiente and Tendence and a driving force behind Talents, is the first to say that it's not an exact science. "Like any process of this kind, first and above everything else, one has to admit that there's a lot of gut feeling and emotion." And after 26 years of working for one of the largest trade fairs in Europe, it's her innate judgement that has made Talents such a successful venue for emerging talent.

"Sometimes [the designers] didn't apply with something that you thought would be a really great product but they applied with something that was reflecting sitting, reflecting how we eat, reflecting time even…You can see that this reflection leads to something that might be too avant grade, that might never be a sellable product, but you know that there's a bright mind behind it," Naumann continues.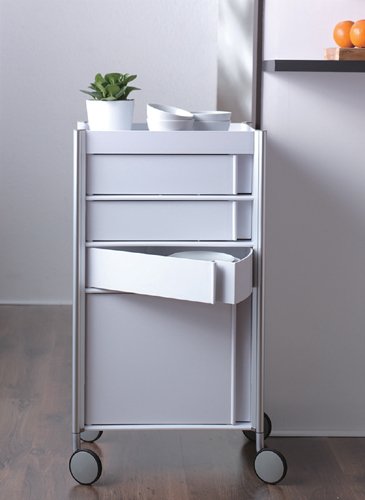 In
10 + 1
, in honor of Talents's 11th birthday, Naumann and the other Talents organizers took a look at 11 designers who exhibited some of their first works at Ambiente and Tendence and juxtaposed early pieces along with more recent ones. In the following slideshow, we take a look at the works from five designers included: 
Diana Budds
@dianabudds
A New York-based writer, Diana studied art history and environmental policy at UC Davis. Before rising to Senior Editor at Dwell—where she helped craft product coverage, features, and more—Diana worked in the Architecture and Design departments at MoMA and the San Francisco Museum of Modern Art. She counts finishing a 5K as one of her greatest accomplishments, gets excited about any travel involving trains, and her favorite magazine section is Rewind. Learn more about Diana at: http://dianabudds.com
Everybody loves feedback. Be the first to add a comment.
The author will be notified whenever new comments are added.