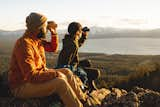 32 Camping Must-Haves for Your Next Outdoor Adventure
You don't have to rough it to experience nature at its finest.
Whether you're a seasoned backpacker, a casual car camper, or a glamper who appreciates all the comforts of home, the call of the wild is strong this time of year. Gear up for adventure with our top camping essentials (and a few other fun goodies) that will amp up any summer getaway.
Get the Shop Newsletter
Smart shopping for the design obsessed. Find what you love in our expertly curated selection of finely crafted home, office, travel, and lifestyle products.