6 British Vacation Homes You Can Stay in That Were Designed by Renowned Architects
If you're a fan of modern architecture, then why not plan your next vacation at one of these British holiday properties designed by respected architects?
While Swiss-born British philosopher and author Alain Botton was writing a book about the architecture of happiness, he came up with an idea. Why not let more people experience the joy of extraordinary, contemporary architecture for themselves?

In 2009, Botton's vision was brought to life through Living Architecture, a collection of holiday rental properties in stunning natural locations across Britain that connect people with the natural environment.
Designed specially for Living Architecture by some of the most talented architects working today, these houses make intelligent architecture and good design more accessible to the public.
Here are some of the houses that you can rent through Living Architecture.
The Life House by RIBA award-winning British architect John Pawson is a well-considered, minimalist retreat in Wales designed to help busy urbanites slow down, recharge, and get into a Zen zone.
Newsletter
Join the Travel Mailing List
Get carefully curated content filled with inspiring homes from around the world, innovative new products, and the best in modern design
Designed by Norwegian practice JVA, The Dune House on the Suffolk coast features a complex roof geometry and gabled roofs that mimic the vernacular of the area's local seaside huts.
A home that feels like a refuge while still connecting its visitors to their surrounding environment, The Long House on the north coast of Norfolk has flint walls that pay homage to the barns and ancient churches in the area. Designed by British architects Sir Michael and Lady Patty Hopkins, this house melds elements from medieval architecture with distinctly modernist features.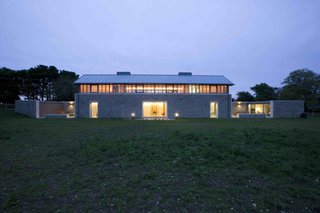 A collaboration between Rotterdam-based practice MVRDV and British firm Mole Architects, the cantilevered Balancing Barn in Suffolk is almost 100 feet long, with half of its body jutting forward from a slope and straight out into the open space.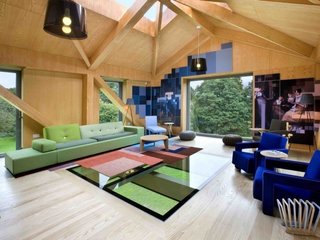 Sited in the Dungeness—a large expanse of shingled headland in Kent—The Shingle House by NORD Architects combines concrete, timber, and tarred shingles and boards to create a striking black house that complements and enhances the beauty of its surrounding landscape.
Sited along the Essex coast, House for Essex is a provocative and fantastical collaboration between FAT Architecture and Grayson Perry that melds elements from different architectural movements, including arts and crafts and baroque design.