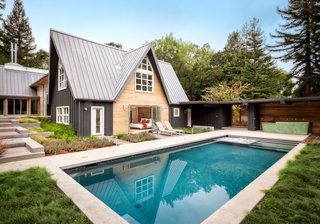 Dwell Home Tours Lands in Silicon Valley
For our last stop on this year's Dwell Home Tours program, we'll be making our way to Silicon Valley, where we'll be hosting self-guided tours of five modern residences that were designed to fit into Northern California's idyllic landscape.
After stopping in San Diego, Los Angeles, Scottsdale, and Portland, this particular tour will give visitors a chance to explore the San Francisco Peninsula, where design, architecture, and technology are thriving. The program begins with Meet the Architects night on Friday, September 23, at Pace Art + Technology in Menlo Park. Join us for a night of conversation where you'll hear directly from the architects featured in the program. The self-guided tour will then commence on Saturday, September 24 and will last from 10:00 a.m. to 4:00 p.m.
When you purchase a Dwell Home Tour ticket—which you can do here—you'll receive a complimentary pass to Meet the Architects Night. Find out more about the evening and reserve your spot by following this link.
Finally, if you're interested in volunteering, let us know by contacting afleming@dwell.com—you'll receive two complimentary tickets to the tour!
Take an early peek at the five Dwell-approved residences that will be featured in the program.
Dyson Residence
One of the homes you'll be able to explore on Saturday is the Dyson Residence in Portola Valley. Designed by Carl Hesse of Square Three Design Studios, this double A-frame residence was remodeled after originally being built in 1957. The redesign by Hesse was meant to open up views and turn the home into a modern mountain lodge that gives the feeling of being far from Silicon Valley.
Moody Road House
Posted up in Los Altos Hills is the Moody Road House, designed by Stephen Atkinson of Atkinson Architecture and constructed in 2015. The L-shaped design features an interior courtyard that opens up diagonally towards the adjacent valley. Atkinson incorporated deep overhangs, west-facing sun screens, and aluminum applications in order to minimize the need for interior cooling.
Rolling Hills Estate
Another featured house is the Rolling Hills Estate, an L-shaped design in Saratoga that was created in 2013 by Louie Leu Architect. Made up of a 12,000-square-foot main house and basement—as well as a 1,200-square-foot guesthouse—it sits at the crest of a hilltop and looks out to panoramic views. When designing this residence, Leu made sure to focus on creating a passive ventilation system and to take advantage of natural daylight whenever possible.
Low/Rise House
When you make your way to Menlo Park, you'll be given the chance to explore the Low/Rise House, which was designed by SAW // Spiegel Aihara Workshop. This three-story residence was a collaborative effort between Dan Spiegel—who designed the building—and his wife Megumi Aihara—who created the landscaping. They developed the home for Spiegel's parents, who are both professors at Stanford University. The team wanted to create a residence that utilizes space efficiently and that can accommodate varying social situations—from intimate time spent as a couple to spacious configurations for a large number of family members and party guests.
Erica Residence
Another house featured on the tour is the Erica Residence in Portola Valley. Designed by Ana Williamson Architect, it was designed to follow the sloping woody terrain and has multiple spaces that are organized around a courtyard. Williamson worked with a subdued palette of natural materials and made sure to consider the practical needs of the busy family that lives there.
Get the Dwell Newsletter
Be the first to see our latest home tours, design news, and more.