You'll be surprised by what material Shore Rugs uses to create their colorful designs.
The international synergy that helped create Shore Rugs is as electric as the emerging brand's neon-hued designs. Louie Rigano, a New Jersey native, and his Swiss-born classmate Gil Muller were both studying product design at London's Royal College of Art when they met. But the urge to explore durable materials led them to create brightly colored rugs in silicone sponge-cord—a material more commonly used as a sealant or insulator.
Newsletter
Join the Daily Dose Mailing List
Get carefully curated content filled with inspiring homes from around the world, innovative new products, and the best in modern design
"In terms of general inspiration, I would say it's less in design roles and more in the craft and artistic fields," Rigano says. "We explore that with our company now, which sits of at the intersection of advanced material research and very traditional crafts and weaving techniques."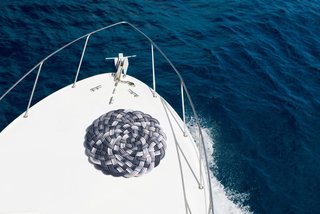 That background in craft is balanced by the designers' material of choice, which takes on color well and lends itself easily to weaving, while its durability and waterproof nature mean it can be used indoors or out. As those who have stepped foot on Shore's rugs can attest, it's their softness that has opened up a potentially lucrative market that had not previously occurred to the pair.
"At our graduation show we sold two rugs to people who wanted to use them on with standing desks," Muller says. "The whole industry sector was one we didn't expect, but our products sit perfectly well there, and now we've started to tap into that."