Styling a Rescued Mid-Century Gem
How we came to shoot our latest campaign in a home saved from the bulldozers.
The race for real estate in Vancouver has never been more competitive (or expensive). To meet this demand, many historically important properties are being demolished to make way for new development.
Newsletter
Join the Daily Dose Mailing List
Get carefully curated content filled with inspiring homes from around the world, innovative new products, and the best in modern design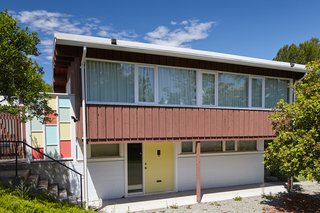 The Friedman House, built in 1953, was one such vulnerable property on the city's west side, built for University of British Columbia (UBC) faculty of medicine founding members Drs. Sydney and Constance Friedman. The Friedman House has a special pedigree, involving some of Vancouver's original Modern era architects. The house was designed by Frederic Lasserre, a close family friend of the Friedmans and head of the then-newly instated UBC School of Architecture. Its garden was also one of the first Vancouver projects by renowned landscape architect, Cornelia Oberlander.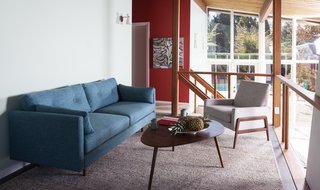 Dr. Sydney Friedman lived in the house until his passing last year at age 98, when it was put up for sale and its teardown status seemed almost a certainty. Catching wind of the home's potential doom, Ottawa-based tech entrepreneur, Cody Fauser and his wife, Maria Urbina-Fauser, saved the mid-century modern gem from the bulldozer, purchasing the 2,220 square foot corner-unit lot.
The Fausers and their young family will be moving to Vancouver soon and have plans to extensively renovate, modernize and restore the home in the spirit of its original concept. Until then, the home has remained empty. Sensing the home's uniqueness, The Vancouver Heritage Foundation, with the Fausers' cooperation, had the home featured in their September Mid-Century Modern Home Tour. We jumped at the opportunity to outfit the space with Article furniture for the tour, and when the last mid-century modern admirer had left, our photoshoot began!
The split-level home represents the flow (wide hallways and open floor plan), the quirk (the wall colors run the gamut of mint, lavender, red, and white), and the interplay of indoor and outdoor space (floor to ceiling windows!) synonymous with mid-century modern buildings. We filled it with our mid-century inspired velvets, clean-lined armchairs and solid wood dining and storage options. Decorating this unique home was like stepping back in time to when the Friedmans built it over 60 years ago.

To continue the cycle of the Friedman's lifetime of generosity to UBC, the proceeds from the sale of their home — totalling $3.3 million — have been donated back to the university in the form of a scholarship fund.

We look forward to seeing what the Fausers do to restore this special property.
Featured Article Products:

Living Room
Loft
Dining Room