A Look Inside The French Laundry's Stunning $10M Renovation
Chef Thomas Keller's three-starred Michelin restaurant receives a $10,000,000 renovation—its first major revamp in over 20 years.
Since its opening in 1994, The French Laundry has been recognized as a beloved mecca for fine French cuisine. Now, the high-end restaurant is giving guests another reason to make a reservation. After collaborating with design studio Snøhetta and San Francisco–based firm Envelope A+D, Chef Keller has recently unveiled the highly anticipated renovation for his exclusive Wine Country eatery located in Yountville, California.
Newsletter
Join the Renovations Mailing List
Get carefully curated content filled with inspiring homes from around the world, innovative new products, and the best in modern design
Shaped by simple geometrics that are both modern and reminiscent of agrarian architectural forms, the renovation doubles the size of the existing landscape and provides a world-class working environment for Keller and his team within the historic two-story stone cottage.
The latest kitchen annex houses the restaurant's supporting functions, including the site's butchery, produce storage, and wine cellar that stores up to 15,000 bottles.

Throughout the project, Snøhetta spent time with Chef Keller's team, observing them in the kitchen. The new layout "not only optimizes the team's efficiency but also fosters a meaningful environment for the chefs who work there," the team explains.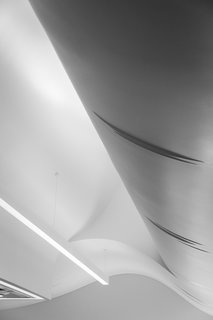 To read more about the world-renowned restaurant, or to make a reservation, check out the website here.
Project Credits:

Design Architect & Landscape Architect: Snøhetta
Executive Architect: Envelope A+D
Local Landscape Architect: Terremoto
Local Landscape Architect Consultant: Martin Poirier, PWP Landscape
Architecture Acoustician: Arup Construction Manager: Wright Contracting
Food Service Consultant: Harrison Koellner, LLC

Structural Engineer: Vaziri Structural Engineering MEP
Engineers: Guttmann Blaevoet Consulting Engineering
Civil Engineer: CAB Consulting Engineering
Geotechnical Engineer: RGH Consultants, Inc.
Traffic Consultant: Crane Transportation Group
Waterproofing Consultant: Neumann Sloat Blanco Architects LLP
Ceiling Manufacturer: GC Products Solar Panels: NRG
Walls, flooring, and countertops: Dekton by Cosentino Ventilated
Ceiling systems: Halton America