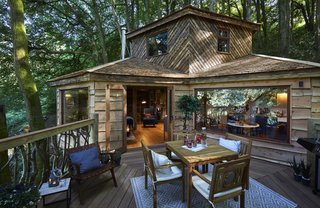 View Photos
A Luxe, Handcrafted Tree House Offers Blissful Escape Into Nature
Nestled among four mature Beech trees, this hexagonal tree house invites visitors to reconnect with nature in a surprisingly luxurious setting.
Following two years of hard work, Kieran and Helen Fisher are now welcoming guests to the Ravendere Retreat, a handcrafted tree house set amidst 12 acres of pristine forest in Southwest England.
Newsletter
Join the Travel Newsletter
Get carefully curated content filled with inspiring homes from around the world, innovative new products, and the best in modern design
Conceived as an eco-friendly holiday rental, this approximately 800-square-foot, timber-framed tree house was a risk that happily paid off.
Since the property is located in an Area of Outstanding Beauty (AONB), obtaining planning permission was a potential problem that was fortunately overcome when the local council granted approval.
Spread across two floors, the luxurious retreat comprises of a sumptuous bedroom and bath on the upper level, as well as an open-plan kitchen, dining area, and living room that open to a spacious outdoor terrace.
A team of stylists from Wayfair UK led the interior design and fitted out the unique rental with cozy, modern fixtures that complement reclaimed finds. Keep scrolling to see more of this beautifully styled getaway.
Shop the Look