A Midcentury Home Keeps the History Alive
With new owners, a locally-renowned midcentury home in Los Angeles begins a fresh chapter.
Shortly after they moved to Crestwood Hills, an enclave in the Santa Monica Mountains, in 2012, Elise Loehnen and Rob Fissmer got an inkling that their new neighbors felt more than just run-of-the-mill community pride. On their first strolls in the area with their newborn son, Max, longtime residents often stopped them and struck up conversation. "They wanted to be sure we understood how special the neighborhood is and how special it is for Max to grow up here," Loehnen recalls.
Newsletter
Join the Daily Dose Mailing List
Get carefully curated content filled with inspiring homes from around the world, innovative new products, and the best in modern design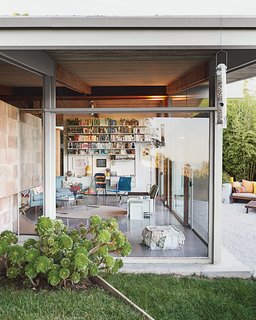 Occupying some 800 acres above Sunset Boulevard in Brentwood, Crestwood Hills is indeed a rarity. The Mutual Housing Association—which four musicians with a dream of cooperative living founded in 1946—enlisted architects A. Quincy Jones and Whitney R. Smith and engineer Edgardo Contini to develop a novel yet affordable housing option for middle-class Angelenos. The team conceived 500 modern single-family houses in the Santa Monica Mountains, on angled sites that would offer canyon and ocean views. In the end, only 160 were built, along with a cooperative nursery school and community center. The post-and-beam dwellings were modest, constructed of exposed concrete block, redwood siding, and tongue-and-groove Douglas fir ceilings, but their abundant windows and angled rooflines amplified their relationship to the outdoors. A 1961 fire destroyed about 45 of the houses; others were poorly redone or demolished outright. Today, just 33 remain intact.
According to architect Cory Buckner, Crestwood Hills holds a unique place in the canon of modern architecture. A resident of the enclave since 1994 and the author of A. Quincy Jones (Phaidon, 2002), she has spearheaded an effort to have many of the Crestwood Hills houses designated as Historic-Cultural Monuments by the Los Angeles Cultural Heritage Commission. "In the beginning, we had to fight to get people interested in saving them," she says. "But as the years go by, their appreciation grows. They're willing to bring these houses back to what they were and to respect and maintain them."
Fissmer and Loehnen knew nothing about the neighborhood when they began searching around Los Angeles for an architecturally significant house. After moving to California from Jersey City, New Jersey, in 2011, they lived in a Venice loft for about a year. Fissmer, who works for the furniture company Vitsœ, says the move to Southern California "reinvigorated my interest in architecture," particularly the midcentury-modern style, which he resisted while studying architecture at the Rhode Island School of Design. When the couple discovered the 1950 Kalmick House, also known as Historic-Cultural Monument No. 634, "within 20 seconds, we knew it was for us," Fissmer says, recalling the first visit. "We were completely moved by the space—by the floor-to-ceiling windows in the living area, by the house's simple but deeply considered lines, by the view of the ocean."
At just 1,468 square feet, the three-bedroom, two-bath house is filled with light. The couple thoughtfully arranged furniture they've amassed over the years throughout the open-plan space: tables and chairs by Charles and Ray Eames, objects by Dieter Rams, Fissmer's sizable collection of vinyl records, and odds and ends that Loehnen has gathered on her travels. She has a particular affinity for Ray Eames. "I love that she was a collector—and not a collector of things that were 'good' or pedigreed, but of things that spoke to her soul," Loehnen says. "I try not to be precious about things. We cringed when the cats first took their nails to the Eames chair, but what's the point of having things if you're not going to enjoy them?"
Though Fissmer and Loehnen are proud of their collection, they wanted the structure, rather than the things within it, to be the star of the show. "We're not minimalists," Fissmer says, "but we try to find an appropriate balance. In a house like this, it should be more about the architecture than your furniture. We've made a conscious decision not to obstruct any original walls or finishes, as they're extremely beautiful."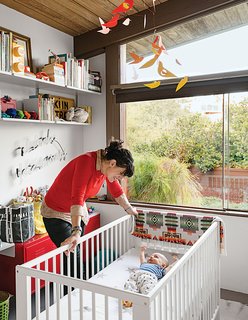 When Fissmer and Loehnen purchased the home, many of the original finishes were in good condition. But previous residents had altered or updated the structure, and the couple plan to restore some of the details. One day, Fissmer happened upon some dusty tubes stowed among the cobwebs in the carport. Upon closer inspection, he saw that they held a set of plans and elevations for the site and the house—signed by A. Quincy Jones in 1949. "It was like a time capsule," he says. The documents will come in handy in the years to come as the couple begin to return the house to its roots. "Every day, we look at each other and wonder how we ended up in this house," Fissmer says. "We're very grateful to be stewards of one of the homes in this remarkable architectural community.