10 Modern Prefab Homes That Cost Less Than $100,000
On budget and on trend, these small, affordable homes fill a huge hole in the housing marketplace.
With a severe housing crisis tightening the vise on major North American cities like Seattle, San Francisco, and Toronto, the need for affordable homes is more pronounced than ever. Prefabricated homes—whether they're modular, kit, or mobile homes—are a well-priced option, and often come with many options for customization. They're also increasingly available in more modern designs, from humble cabins to contemporary tiny homes. Here, we've highlighted 10 prefab homes that can be purchased from various homebuilders in the United States and Canada for under $100,000.
Note: These prices do not include soft costs (like a site survey or geotechnical report) or hard costs (like the cost of purchasing or acquiring land, shipping, and hookups to local utilities). Where noted, pricing may only include the shell of the building.
Price: $60,000 to $80,000
Size: 240 to 330 square feet
KitHaus' largest line of prefabricated, non-custom homes, the K6 series delivers loads of dramatic living space. Depending on the specific model, clients can select a full kitchen and/or bath, including a toilet, sink, and shower. Like KitHaus' other prefab homes, this series has cladding options: corrugated galvalume; smooth, natural cement board with corrugated roofing; hardwood siding/Ipe; or other Cor-Ten corrugated siding and roofing. Insulation is provided with SIP panels (Structural Insulated Panels) in floors, roofs, and ceilings; glazing is provided with quality, dual-glazed, low-E frames with screens and locks available in clear or bronze anodized.
Newsletter
Join the Prefab Homes Mailing List
Get carefully curated content filled with inspiring homes from around the world, innovative new products, and the best in modern design
Price: Starting at $94,000
Size: 400 square feet
With a striking roofline and exterior siding built from reclaimed Wyoming snow fencing, the Wedge combines a rustic feel with a sustainable, built-to-last mentality . Boasting impressively high ceilings under a timber-and-steel roof system and trapezoidal windows increasing in size from the back of the unit to the front, this spacious model fills with natural light while keeping privacy in mind. Solid surface countertops are paired with high-grade, ⅝" cabinetry and soft-close doors; while all the necessary hardware, fixtures, and appliances make the space feel luxurious yet convenient. The bathroom maximizes space and efficiency with a European-style glass shower, full tile, high-end fixtures, and a closet large enough for both an optional combo washer/dryer and a linen shelf. With a fully covered front deck, sliding glass entryway, and stunning outdoor deck off the back, this model provides an unmatched opportunity for entertaining and relaxation.
Price: Starting at $17,980
Size: 184 square feet, including a 52-square-foot loft
The Bonsai tiny home is one of Bamboo Living's many homes that use timber-grade structural bamboo as a building material. However, it's important to note that this home is only appropriate for temperate climates with building codes that allow single-wall construction: the walls have no insulation, and the home package includes bamboo-framed exterior single wall panels, complete with their natural split bamboo exterior siding. Based in Pahoa, Hawaii, the company seeks to protect and restore the planet by pioneering the use of timber-grade structural bamboo as a tree-free building material.
Price: Starting at $30,000
Size: 1,200 square feet
Designed by architect David Day and manufactured and constructed by Green Modern Kits, Casa Ti is a passive solar, one-story modern house that emphasizes the outdoors. The net-zero, off-the-grid prototype is clad in SIPs (Structural Insulated Panels).
Price: Starting at $98,000
Size: 1,536 to 1,572 square feet
Ridgeline A by Deltec Homes combines passive solar layout with a modern flair: ample south-facing glass, vaulted ceilings, and high clerestory windows in end bedrooms give this house an open, airy feel. Side entry porches allow abundant outdoor living space. The Ridgeline is one of Deltec's most popular Renew Collection homes. As with all models in this collection, it's designed to use two-thirds less energy than a typical home, making achieving net-zero energy even easier.
Sierra Laneway LS596 by Jenesys Buildings
Price: $42,000 CAD (shell package only) to $96,700 CAD (shell plus package)
Size: 400 to 800 square feet
Based out of Vancouver, Vancouver Island, and Ontario, Jenesys Buildings offers three different designs of "Laneway" houses that were designed to comply with Vancouver's new laneway housing regulations, but any of these designs could also be used as a cottage or small home. Each home boasts a distinctly contemporary design, with flat or angled roofs and modern finishes and cladding.
Price: Starting at $8,000 for an outdoor shower and going up to $60,000 for a larger space with a lofted bed, bathroom, and kitchenette
Size: Varies from 45 to 169 square feet
The K3 is one of KitHaus's most flexible options, adaptable as a backyard studio, home office, pool house, or play room, to name a few options. Its exterior is clad in corrugated galvalume or smooth, natural cement board with corrugated roofing, and floors are natural hardwood or finished plywood.

Cozumel by Titan Park Model Homes
Price: $64,900
Size: 399 square feet
Designed as an RV, this mobile home can be used as a vacation home, weekend getaway, or primary residence. At 12 feet wide by 36 feet long, it features one bedroom and one full bath with two sinks, as well as a front porch and light-filled interior.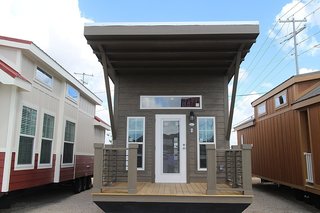 Price: Starting at $97,000
Size: 400 square feet
Recommended for buyers interested in larger cabins, the Light-Haus is named for its sophisticated, oversized doors and windows that allow for generous views in every room and abundant natural light. This cabin features a modern shed roof paired with traditional exterior wood siding for an overall rustic texture that stands the test of durability while keeping a warm, inviting feel.
Price: $79,884 (move-in ready)
Size: 203 square feet
84 Lumber Tiny Living's Countryside model is a rustic tiny home, built on a steel trailer with radial tires, safety brakes, and stabilizing jacks. The exterior features a reclaimed wood look. Among the key features of this rustic home are the extra storage space, bamboo flooring, and permanent staircase. The kitchen features a butcher block countertop, raised bar for cooking and dining, an ENERGY STAR refrigerator and induction cook-top, and a distinctive bathroom with a vanity.