Designed for a new wave of small urban dwellings, both for millennials and those looking to downsize, the GE Micro Kitchen concept is meant to be a "major shift" in appliance design, according to Lou Lenzi, director of industrial design at GE Appliances, who helped developed the prototype that's being tested by the company for widespread release later this year.
According to Lenzi, there was a steady drumbeat of information, including compelling demographic data, that inspired the direction of development. "When we think of a room that's 300-700 square feet, our standard range wouldn't work," he says. "We had to rethink the whole category."
After rejecting a method that vertically stacked different pieces due to ergonomics, the team came upon a customizable "monoblock" system that utilizes 24-inch deep, drawer-based modules, aligned at 36-inches high, that can fit an entire array of appliances (oven, dishwasher, sink, freezer, refrigerator and induction cooktop) within six linear feet. The entire system would run roughly $15,000, and can be configured down to $7,000-$8,000 depending on need. It can fit into high-rises as well as tertiary spaces, like an Airstream trailer. Ryan Diener, an industrial designer at GE Appliances, says the layout achieves a minimal footprint without losing functionality, especially due to the new tabletop UI and seamless LCD touch controls, which mimic the flat interface of a mobile device and are made to be visible across the room.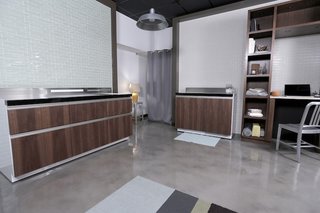 "We worked to create a more seamless interaction with mobile as well," says Diener. "You can charge phones and tablets on the backsplash."
Lenzi estimates that this could be a huge market opportunity—trends suggest up to a third of the population may be looking for smaller dwellings and suitable appliances at some point soon—and the design also increases accessibility access.