View Photos
This Quirky Abode Built By a Frank Lloyd Wright Apprentice Wants $575K
Designed in 1966 by Wright's student Herb DeLevie, this home in Madison, Wisconsin, includes an unusual converted sunroom.
Located in the capital city of Madison, Wisconsin, The Max and Arlyne Hurwitz House balances Wright-inspired design cues with a few twists. Built in 1966 by Herb DeLevine, a student of Wright's Taliesin School of Architecture, the midcentury home's unusual details include a converted sunroom that once housed an indoor pool. See if you can spot it below.
Get the Real Estate Newsletter
Get carefully curated content filled with inspiring homes from around the world, innovative new products, and the best in modern design.
The 3,500-square-foot residence offers an earthy interior with a natural stone fireplace, wood paneling, and floor-to-ceiling windows. Throughout the four-bedroom and three-bathroom home, angled walls and corner nooks create surprising visual contrasts.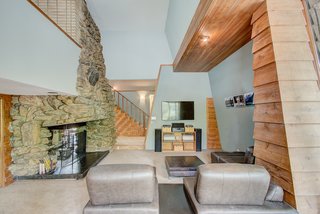 According to historical records, DeLevine studied under Frank Lloyd Wright at Taliesin in the early 1950s. He eventually became a prominent local architect at his Madison–based firm, DeLevie and Associates.
Although the pool is no longer in use, the home does offer a modern sauna. A large recreation area also enhances the entertaining options, with a large wet bar and plenty of space for friends.