Matali Crasset Renovates Monory Farmhouse
Cerebral architect Matali Crasset turns a stone farmhouse into a flexible, open environment for a Parisian jewelry designer and her many houseguests.
In 2005, Michèle Monory, who runs a collaborative jewelry-design studio in Paris, inherited what was formerly an abandoned farmhouse from her father. Set deep in the heart of a forest near France's Chinon region, not far from the Loire Valley and its chateaux, the structure has no specific style and is, therefore, difficult to date—Monory supposes it, along with the two barns on the property, could be 200 years old.
Newsletter
Join the Daily Dose Mailing List
Get carefully curated content filled with inspiring homes from around the world, innovative new products, and the best in modern design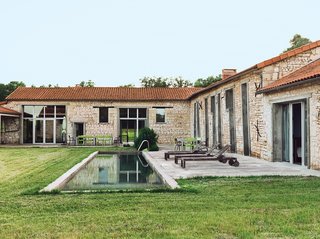 When she took possession of the property, only the farmhouse roof and the original tuffeau stone walls were in good condition. After 30 years of living in a "bourgeois" house full of antiques, she wanted a warm, smooth living space with simple materials—nothing valuable or fragile. She dreamed of a weekend house that would be a source of happiness for both her and her friends, a house without curtains or blinds where she could live in perfect harmony with nature, even at night.
To restore the place, Monory's choice was Matali Crasset, a Paris-based architect and designer. "I've known Matali since 1998. We both have country roots," she explains. "I like the simplicity of her work and her talent for mixing tradition with contemporary design."
Crasset's first objective was to unify the structures. "We reinvented the logic of the living space by uniting the two barns to make one huge space with a mezzanine and a beautifully high ceiling. The bedrooms lead off of this central living area," she says. The frame- work and walls were in dangerously bad shape, but instead of replacing the original timber, Crasset installed a cube-shaped belvedere—which reinforced the building and created an office alcove that has views of the forest yet is still part of the house. "It's an ideal place for observation and reflection," she says.
On the other side of this 2,152-square-foot living space is an oak mezzanine that is totally flexible; it can be changed into a lounge or guest room, a playroom for children, or even a reading corner. The blend of colors on the concrete floor is the result of a technical error: Originally painted a vibrant orange, it started to blister after just one week, so Monory removed the hue. This extraction created an unexpected yet pleasing finish, which the resident decided she really liked.
There are five 260-square-foot guest bedrooms, each with an en suite bathroom. Much of the furniture is made of oak, sourced from the forest behind the house, where Monory's father used to hunt. "I commissioned local carpenters," says Crasset. "I loved the idea of giving a new challenge to artisans who are more used to producing kitchens and fitted wardrobes."
The original buildings had few windows, so Crasset broke up the walls and inserted French doors, opening up the rooms to the courtyard and pool on the south side and the forest to the north. With utmost simplicity, the house presents the paradox of living together and living independently, depending on the occupants' wishes. "This house reflects my personality completely, with masses of light and color—but it was Matali who designed it and chose the furniture and colors," Monory says. "When you're lucky enough to have someone with so much talent, you have to give them freedom to express themselves."