This Texas Hill Country House Oozes With European Charm
A 2,380-square-foot abode strikes the perfect match between Scandinavian form and English decor.
After having spent time in Scandinavia and lived in England for three years, the owners of this Texas Hills Country property were looking for a simple, humble home that combined design elements from both of these parts of the world.
Eager to help, Austin architect Tim Brown brought their vision to life by designing what is now known as Low Prairie House—a rural residence with a Scandinavian–inspired form that incorporates plenty of English art and furniture, along with an intersecting mass for maximizing natural light and ventilation.
Newsletter
Join the Daily Dose Newsletter
Get carefully curated content filled with inspiring homes from around the world, innovative new products, and the best in modern design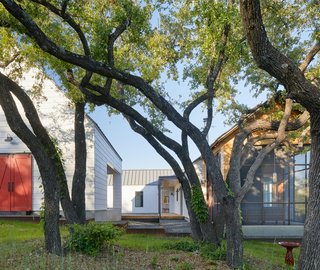 The house has an acid-etched, paint-grip metal roof, cementitious lap siding—along with natural wood siding—and custom steel porch columns.
The views and topography of the pastoral site guided the placement of house. Brown says that the house was in part inspired by the Saarinen Residence at Cranbrook Academy in Detroit.
Similar to the Saarinen Residence, the home has a linear design that allows for plenty of natural light and cross breezes.
A simple, T-shaped plan creates a hub at the intersection where a spacious kitchen—the heart of the communal and social activities—is located.
This open-plan kitchen has a large marble island at its center, a butler pantry, and high vaulted ceilings to create a lovely entertaining space.
This simplified floor plan creates circulation in small, cozy pockets, rather than long, austere hallways.
Drywall used for the walls and ceilings, along with engineered wood and encaustic tile floors result in clean, bright interiors.
Large glass doors were installed along the south wall to not only provide shade, but also break up the boxy form of facade.
In order to free up extra outdoor space for entertaining, Brown and his team decided on a carport, instead of an enclosed garage, for parking.
"The joining of English art and furniture with Scandinavian form was challenging. Fundamentally, the folk aspect of each have much in common. The English form tends to follow more ornate European styles. The juxtaposition of the two make Low Prairie House a space that is unique to the clients and their experiences," explains Brown.