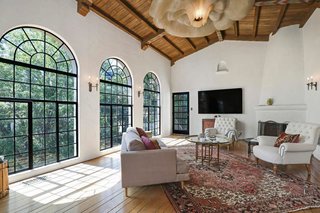 Sitcom Actor and Comedian Jason Segel Says Farewell to His L.A. Pad for $2.8M
The "How I Met Your Mother' star purchased the Los Feliz home in 2016 from artist Shepard Fairey.
Now up for grabs in Los Angeles is Jason Segel's three-story residence, located in the celebrity-studded enclave of Los Feliz. The Mediterranean Revival abode was built in 1929 by architect H.B. Benson and sits among other historic homes along Lowry Road. Segel acquired the property from artist Shepard Fairey in 2016 for $2,250,000, but after treating the space to a few updates, he is releasing it back to the market.
Spread across 2,523 square feet, the historic residence is steeped in original character, including high-arched beamed ceilings in the living room. An Andalusian fireplace adds to the dramatic, double-height space, as do the double-height steel-encased windows.
The newly remodeled kitchen features custom blue cabinetry, a black subway-tiled backsplash, and a hand-painted corner banquette. Steps away, the dining room provides direct access to one of the home's covered terraces. In total, the home includes four bedrooms and four baths, including a private guest suite and/or studio space. Scroll ahead to see more of the property, which is asking $2,750,000.
Get the Real Estate Newsletter
From midcentury classics to the best contemporary spaces for sale, see the latest listings for modern homes on the market around the world.