In August 2009, we reviewed the new book Design Taste, which offers a "heaping helping of appetizing atmospheres that illustrate the many contextual details that go into maximizing every meal." Earlier last year, we also took a look at designer Marije Vogelzang's beautiful book Eat Love: A Book of Food Design, which presented page after page of her creative experiments that turn "the dining experience into a full-sensory immersion that makes us think not only about what we're eating, but why and how."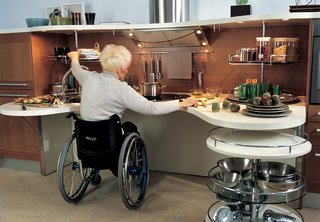 Kitchen Designs
In our March 2010 kitchen-themed issue, we featured Universal Design 101. Online, we wrote about Italian company Snaidero's Skyline kitchen system, designed for cooks in wheelchairs and explored the possibilities of universal design in the kitchen.
Kitchen Renovation
There's nothing that whets our appetite like a good kitchen renovation. Seattle firm Shed Architects' Anderson Remodel offers slide after slide of kitchen eye-candy with blue and seafoam-colored built-in cabinets and drawers that make the most of a space.
Product Roundups
There's nothing nicer than breakfast in bed—and nothing worse than bed covers covered in coffee and toast. We set out on a hunt to find colorful, graphically bold serving trays to sort out the situation and presented them in a special serving trays collection.
Kitchen Shops
We featured the London-based shop Labour and Wait in our March 2010 issue and then followed it up with a slideshow of favorite items from Brooklyn-based Brook Farm General Store (which, unlike Labour and Wait, ships throughout the United States), selected by the owners.
Recipes
When we get the chance, we love to throw in a recipe and encourage our readers to get messy in the kitchen. Chicago resident Chelsea Jackson shared her S'mores Tart recipe with us after a reader requested it after the tart tempted her on the cover of our March 2010 issue.
We have a rad renovation coming your way as our first Dwell Kitchens post so stayed tuned and in the meantime, and bon appetit!