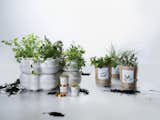 Indoor Garden Kits
Dear Dwell, I'd like to grow edible herbs and plants, but since I live in a tiny apartment with no outdoor space, I'm looking for a garden I can grow on my kitchen counter. Can you help?
As everyone from Julia to Jacques to (dare we say it) Giada had made clear, when it comes to cooking, fresh is best. Who can defend canned "green" beans against their snappy garden-fresh cousins, or herbs that you shake versus those you pick? Here are a few indoor garden kits that should satisfy even the most particular palate.
Get the Dwell Newsletter
Be the first to see our latest home tours, design news, and more.