How an Instagram-Worthy Kitchen Renovation Comes Alive With the Right Surfaces
A designer with a passion for surface materials explains why she chose Caesarstone quartz for her latest kitchen renovation.
New countertops are one of the most exciting additions to any kitchen remodel. Yet for Los Angeles–based designer Sarah Sherman Samuel, the reasons behind the Caesarstone surface choices in her most recent renovation include much more than just their transformative good looks.
Newsletter
Join the Kitchen Mailing List
Get carefully curated content filled with inspiring homes from around the world, innovative new products, and the best in modern design
Her clients Eden and Zan Passante own a quaint California ranch home that needed a modern refresh for a brighter feel. A beautiful new kitchen was of particular importance to Eden, who not only enjoys having people over, but also sees entertaining as a serious business—her lifestyle blog, Sugar and Charm, relies heavily on engaging photos for her hosting tips, recipes and more.
"Since she has the blog, the kitchen had to be very photogenic and aesthetically pleasing," Sarah notes. "Eden also wanted beautiful surfaces to shoot on, especially because top-down photos on countertops are so important in the blogging and Instagram world."
Caesarstone was the obvious countertop choice. Highly durable and reliable, Caesarstone quartz is renowned for its nonporous and antimicrobial qualities, which translates to minimal maintenance. This makes life easier for Eden, who doesn't need to worry about scrubbing out stains or resealing the countertop before a photo shoot. A quick wipe down with warm soapy water is all she needs to bring the surface back to a photogenic shine.
As a designer, Sarah is also drawn to Caesarstone for its wide variety of color options and ease of use. "They just have so many beautiful colors," Sarah explains. "They're always in my back pocket. I can always spec or at least propose some Caesarstone in most of my projects." She adds that while kitchen countertops are her go-to choice for Caesarstone, she's also played around with using the quartz surfaces in bathrooms, from shower benches to a sleek floating vanity.

It's easy to see why Sarah is drawn to the versatility of Caesarstone given her background in surface and product design. Her expertise in combining colors and patterns has gained her a steady following and partnerships with major brands.

When asked about her love for surface design, Sarah said: "Surface materials can really make a space. You don't really think about it when you enter a space, but you feel it. You feel the surroundings by what the surfaces look like. For instance, you don't have to touch a velvet pillow to know that it's soft. Your brain takes it all in and translates it into a feeling. I always find it fascinating how a room can make you feel anxious or happy just by the different textures and surfaces that are there.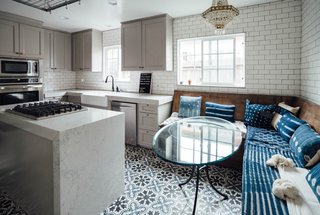 "You're probably not even aware that you're perceiving these surfaces, but you are. I think it's really interesting how your surroundings affect your mood so much, and that's why they're so important. And I think for functional spaces, like the kitchen and bathroom, they're even more important for your well-being because you want beautiful surfaces that are also clean and sanitary."

Bringing that design thinking to Eden and Zan's kitchen renovation, Sarah sought to create a space that was warm, modern and inviting. "I'd describe my design style as relaxed but edited, and it matches with Eden's style too, which is modern with a touch of rustic. Still, I'm also always pushing for something a little unexpected. So even though the kitchen is warm and modern, the design isn't without character."

Caesarstone in Calacatta Nuvo fit that description to a T. "It has that old-world charm but with modern technology," Sarah explains. The marble-inspired surface features elegant gray veining on a luminous white base. Unlike marble, however, the quartz surface is resistant to cracks, scratches and stains—giving Eden all the visual advantages of marble without the high-maintenance headache.
"I wanted something durable and low-maintenance, with a little variation," Eden enthuses on her blog. "I had honed before and it was too much upkeep. This polished Caesarstone has been an absolute dream in the kitchen, with zero stains and it cleans up perfectly. We actually used it in our master bath too! I love the look of the waterfall edge!"