Honey Pie Natural Shampoo Bar
I made a glorious discovery in the shower last night: shampoo in bar form. I'm in Toronto serving on the curatorial committee for the third Twenty+Change design exhibition and publication and reporting a few stories for upcoming issues and am staying at the Gladstone Hotel (more about this great spot soon!). Hot off the plane and ready to be refreshed, I hopped in the shower and found what is sure to become a new favorite product: Honey Pie Hive and Herbal's shampoo bar.
Founded in 2000 by Bay Woodyard (a graduate of the Ontario College of Art and Design) and Gavin North (a gardener and foodie), the company creates natural  products for the home such as soaps, lotions, candles, and teas. Welcoming me at The Gladstone were their bars of their Lavender Soap as well as a bar of Beeswax Moisturizer bar and Bay Conditioning Shampoo.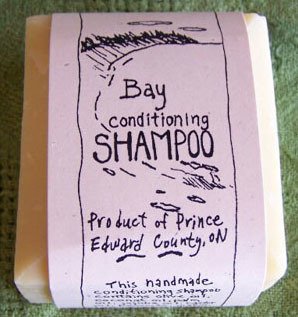 Made of natural oils (coconut, olive, palm, etc) as well as beeswax, lye, herbs, and oils, the shampoo bars are strange, to say the least, at first. I was a bit skeptical of a solid bar of shampoo but follow the directions ("just rub the bar onto wet hair") and voila, lather!
Besides being naturally and locally made (Woodyard and North produce the soaps in Prince Edward County in southeastern Ontario), the soaps have the major benefit of not being liquids, which sold me on them. The just-add-water design means they're perfect for the airplane traveler.