Grind and Seal Concrete Floor a Better Option Compared to Grind and Polish Floors
Polished concrete is not only durable and easy to maintain, but it also looks great if proper finishing procedures are implemented. Concrete can be finished in several ways. Two most common methods are grind and polish and grind and seal.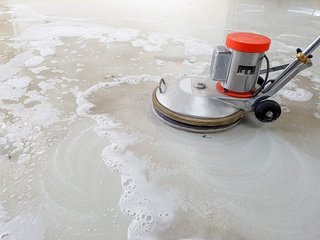 Know the difference
There is a difference in the process. Grind and polish is more expensive. The reason is that the floor surface must be ground with succession of finer grits until a desired surface evenness and exposure of underlying stone is achieved. This is followed by a process of application of chemical densifier. The densifier hardens concrete and makes it harder and stronger. After this the surface is honed using fine grit diamond polishing wheels of increasing fineness with each pass until the desired smoothness or polish is achieved. This is followed by a coat of penetrating sealant. It may be superior and lasting but it is also more expensive. A better, cheaper and just as effective alternative is to opt for grind and seal concrete floor.
The grind and seal concrete floor process is simple and faster. Concrete surface is ground first with coarse grit and then with fine grit. The surface is cleaned and allowed to dry. A seal coat is then applied over the concrete. The concrete sealant may be solvent polymer based, water based or a reacting polymer that cures when two components are mixed together. Epoxy resin is tough and forms a clear, transparent coat or it may be modified with additives to form an opaque coat with a suitable color.
Grind and seal concrete floors are affordable as less labor is involved in the whole process. The process is also fast due to fewer steps involved.
Surface preparation and grinding process
In case of concrete floor with top seal, the process of preparation will start with grinding with a 16 grit or similar abrasive wheel to remove the coat. Once the existing seal coat is removed, the entire surface receives surface grinding using successively finger grits. Then the floor needs to be cleaned of all the dust and debris. Degreasing may be required if there are oil spots. It is advisable to wash and dry the floor thoroughly before proceeding with application of the sealant. It may also be a good idea to apply a floor etching solution prior to applying the sealant to ensure good adhesion.
Selecting the sealant
Sealing is the final step in preparing the grind and seal concrete floor. Even this can be split into two parts if you are particular about achieving quality and durability. The first step here is to use deep penetrating sealant made of siloxane. It will penetrate deep into the concrete's porous structure and provide a measure of water repellency. You can skip this step and proceed to the sealing process. You have a choice of using epoxy, polyurethane or acrylic in transparent or shaded finishes.
Epoxy is tough, adheres very well and it is hard wearing material. It can chip if you drop hard and heavy things on the floor.

Polyurethane can be more expensive but provides a rugged coating that lasts a long time. Be aware though that there are various grades of polyurethane, some of them hard and some of them resilient.

Acrylic can provide a wonderful, transparent "wet" look but it may scratch easily.

It takes about 12 hours for the first coat to cure. Apply a second and a third coat to achieve the desired thickness. If done right the grind and seal concrete floor will look beautiful and stay that way for years with minimum maintenance.