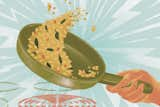 The Electric Kitchen Has Always Been Inevitable
A firestorm of recent news is putting the spotlight on gas stoves and their harmful effects, but induction cooking has been heating up for years.
When the city of Berkeley passed an ordinance banning natural gas infrastructure in new construction in 2019, it triggered a wave of local building electrification decrees—in California and beyond—aimed at addressing climate change and improving air quality and public health. From Los Angeles to New York City, like-minded policies are now on the books in 99 jurisdictions nationwide.
It also prompted pushback. Bolstered by the natural gas industry, 20 states have passed "preemption laws" that now prevent local governments from banning or phasing out gas in buildings. Also, after it failed to convince a lower court that a federal law passed in 1975 supersedes Berkeley's ban, the California Restaurant Association (CRA), supported by the American Gas Association, took its argument to the 9th U.S. Circuit Court of Appeals last year.
"For us, this is a matter of local governments literally stripping away the tool of the trade, the 'blue flame' critical to controlling heat and cooking various foods," says CRA president and CEO Jot Condie.
But not all chefs concur with that assessment, including a pair who filed a brief on Berkeley's behalf.
"Contrary to popular belief, cooking is all about fundamentals and techniques, not fuel source," says Chris Galarza, a chef whose company designs all-electric commercial kitchens. "It doesn't matter if you're braising over flame or by induction. But induction is so much better for those of us in the kitchen who are all too familiar with heat exhaustion, headaches, and nausea. And it's better for the environment."
Supporting Galarza's claims, a firestorm of recent news has thrown a spotlight on the stovetop. A study linking gas stoves to increased risk of children developing asthma and subsequent remarks by a Consumer Product Safety Commission official suggesting the possibility of a gas stove ban ignited dramatic public frenzy, turning the common appliance into an unlikely hot button issue.
The health and environmental concerns related to gas stoves, of course, predate the current news cycle, but a growing body of research only substantiates them. Used in more than 40 million homes across the country, gas stoves emit climate-warming methane and VOCs linked to respiratory and cardiovascular problems—even when they're not on.
Meanwhile, as building electrification policies continue to spread, Galarza finds himself among growing company touting the merits of induction cooktops and ranges.
"Contrary to popular belief, cooking is all about fundamentals and techniques, not fuel source."
Just before the fossil fuel industry introduced its "cooking with gas" marketing slogan, induction made its debut at the World Fair in Chicago in 1933. Although it didn't quite take in North America, the technology eventually earned repute in Europe, which has been more receptive to energy-efficient innovations. Now, analysts are projecting significant growth in the global induction market over the next several years, and industry experts expect the U.S. is poised for a pronounced rise in demand.
The draw is magnetic. Literally. Unlike other electric stoves, or gas, which use thermal conduction, induction generates electromagnetic waves to deliver heat instantly and only on contact with cookware. This yields distinct advantages. Induction appliances are extremely efficient, transferring more than 85 percent of their energy usage directly to cookware, compared to 75 percent with other electric stoves and just 35 to 40 percent with gas. They heat food at least twice as fast as gas, and can change temperatures quickly and maintain them with precision. When not activated, they're cool to the touch so there's little chance of burns. And the smooth glass surfaces are easy to clean.
"For many in the culinary world, the visceral experience of cooking with flame is hard to imagine giving up. After all, that's how we learned," says Rachelle Boucher, veteran chef and kitchen electrification expert with the Building Decarbonization Coalition (BDC). "But once they try induction, they often say the same thing: 'I'll never go back.' The speed, control, safety, and thermal comfort is game-changing."
There is a learning curve. "The transition can be disorienting at first: You can't see the flame, and induction is so fast so it's easy to burn food," says Boucher. And induction works only with magnetic cookware, "which describes most pots and pans," she adds. "Glass and copper, no. Stainless steel and cast iron, yes. If a magnet sticks to the bottom, you're good."
Boucher has been a self-described "induction superfan" for years. After working as a private chef for the likes of George Lucas and Metallica, she became a corporate chef in the appliance industry, designing and leading product training events and programs and becoming inspired by the rapidly evolving product lines.
"The technology has vastly improved," she reports. "There are traditional knobs but also touchscreens with customizable interfaces, 'app driven' recipe cooking, 'vent hood-cooktop synching,' flex burners to accommodate larger cookware anywhere on the surface, induction-embedded counter technology, even a range that plugs into a standard 120-volt outlet and has backup energy-storage capacity."
Prospective buyers, however, should ensure they have proper electrical capacity. And induction appliances currently cost more than their counterparts: Ranges start around $1,000; cooktops start in the low $100s. Portable plug-in hobs, which start at just $50, are a good way to try induction, says Boucher.
She expects that as demand increases, so too will supply, causing prices to fall. Fellow advocates are also quick to point to the consequential cost savings in terms of time, energy, and even medical expenses. And, cooking performance is only improving. In December of last year, Consumer Reports noted that "induction cooktops and ranges generally outperform every other kind of range."
These dynamics suggest that induction cooking is no flash in the pan, and have kept Boucher busy helping homeowners make the switch.
"For many in the culinary world, the visceral experience of cooking with flame is hard to imagine giving up."
Last year, for example, Boucher worked with landscape architect Todd Kohli and his wife Lauren after they bought a 1955 Eichler home in Marin County. Before moving in with their infant daughter, Todd wanted to remodel in family-friendly ways that wouldn't compromise the midcentury aesthetics, including replacing an unsightly old electric stove.
"We were used to cooking with gas but a colleague advised 'the less gas coming into the house, the better,' he says.
When they visited an appliance showroom, Boucher provided the couple with a live induction demo. "Showing them made all the difference," says Boucher. "And I'm so glad because, from a safety and design perspective, induction makes sense for Eichlers, which are fire-susceptible and don't always have great ventilation. Also, induction cooktops are versatile space-savers, which is important for smaller homes."
The Kohlis went with a downdraft Elica cooktop-vent combo that features a circular pivot in its center, where "vortex ventilation" pulls exhaust. The unit requires no vent hood, which was a plus, because installing one would have inhibited the home's open feel. Because induction cooktops are shallow and need little insulation, venting was easily designed to fit beneath the counter.
"This wouldn't have worked with gas because downdrafts affect flame distribution," says Boucher. "An overhead hood with a 'capture area' would be needed since gas cooking produces VOCs, increased microparticulate and excessive heat. With induction, you're just venting moisture, a little heat, and far less microparticulate."
As for the learning curve, Todd says he mastered the cooktop within a day: "It's incredibly fast; a pot of water starts boiling almost immediately," he says. "The efficiency, and to know we're providing safe indoor air quality for our daughter, made this a perfect choice."
—
Many more new parents are similarly motivated, according to Jamie Gold, a certified kitchen designer and wellness design consultant. Like Boucher, she's been seeing growing interest in induction that she doesn't expect will subside anytime soon.
"When I was pitching induction before the Great Recession, I had very few takers," she says. "Now I'm seeing much more enthusiasm, from homeowners and design and building professionals. That will likely accelerate with health- and eco-conscious Millennial and Gen Z homebuyers. Plus, the technology will only advance from here, just as it has with LEDs." Gold also expects sales will be boosted by legislation, especially in California.
The state has, in fact, committed to ending gas appliance sales by 2030. And in New York, Governor Kathy Hochul just announced a similar future ban on fossil fuel–based heating equipment. In Washington state, any new buildings will be required to use electric heat pumps for heating and hot water beginning in July.
Additionally, the Inflation Reduction Act, the biggest climate bill in U.S. history, includes provisions for point-of-sale rebates of up to $840 for low- to middle-income households that install electric ranges, and up to $4,000 for electrical panel upgrades.
As for the CRA's challenge to Berkeley's landmark ban, the federal appeals court has yet to render a decision. "It's an important case," says William Boyd, a professor at the University of California, Los Angeles School of Law. "Lots of cities and states are watching as they consider how to transition away from gas. But building electrification is coming—and we'd all do well to embrace it."

Related Reading:
TikTok Phenom Jon Kung on Why They Love Induction Over Gas
The Induction Renaissance: These Induction Ranges Show How Far the Technology Has Come
Get the Pro Newsletter
What's new in the design world? Stay up to date with our essential dispatches for design professionals.